Kabul attack reveals security flaws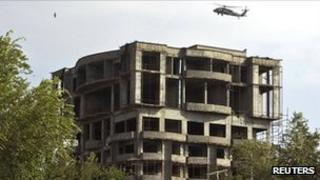 The latest in the series of attacks on Kabul came just when the security forces are accused of lowering their guard.
The 10th anniversary of the 9/11 attacks on the US passed off peacefully on Sunday, and the Afghan national army and police went into a "state of inertia", an intelligence officer told the BBC.
Nato-led Western forces handed over the security of Kabul to Afghan forces about three months ago. Since then, insurgents have attempted at least three big attacks on the city, of which Afghan security forces managed to prevent just one.
This is despite specific and credible intelligence inputs warning of such attacks by the Taliban and remnants of al-Qaeda.
"We have been regularly briefing security forces of the possibility of such attacks," said an official at the National Directorate of Security (NDS), Afghanistan's spy agency.
"These briefings were based on intelligence gathered by our field officers, phone intercepts from and to Pakistan, and surveillance of suspects."
Tuesday's attack took place just 50m from a police checkpoint in the so-called ring of steel meant to protect strategic areas of Kabul.
The security cordon involves concrete barriers and is equipped with state-of-the-art apparatus - including CCTV and metal detectors.
It is manned round the clock by heavily armed personnel and police sniffer dogs, specifically deployed to stop suicide bombers and attackers from bringing explosives and arms into the city.
"That the insurgents managed to strike so close to the ring proves that its steel was not reinforced enough," an Afghan security analyst said. Like many officials, he spoke on condition of anonymity.
Two Afghan intelligence officials told the BBC: ''The attackers had stored weapons inside the building. They had stored RPGs, heavy machine guns and hand grenades. Some had energy drinks.''
But police in Kabul say they are doing their best.
"Kabul, built to house one million people, now has a population in excess of five million," one police officer said.
"Kabul streets are not numbered; there are several illegal colonies and more are coming up, and a minuscule part of the population has government-issued ID cards. How can we secure a city bursting at its seams with just 1,200 men under our command?"
Threat
On Tuesday, business was normal at restaurants in the area of the attack.
The police presence in the area was negligible and there were just a few security barriers on roads leading to Charai Abdul Haq.
Restaurant owners said one or two insurgents detonated their suicide vests at one of the checkpoints. Before the security forces could react, a group of heavily armed militants dashed towards the 13-storey building, which was still under construction.
The building is just 1km (0.6 mile) from the presidential palace and the US embassy. It is even closer to the offices of several key Afghan intelligence directorates and the ministry of defence.
Several Afghan officials said the building had been identified as a security threat and that they had been raising red flags ever since construction began. But others said the building's influential owners managed to win government approval despite their protests.
"We are not happy that the mayor's office gave permission to build such high buildings in Kabul," the city's Governor Ahmadullah Alizai told the BBC.
"Such buildings pose a security threat and makes Kabul ugly. Everything has to be done, bearing in mind security, welfare of our people and environment.''
Another security official told the BBC it had been clear from the start the tower would be "a suicide magnet".
"But the owner went ahead and forced his way. He did what he wanted. We said, fine, you would have to promise us about securing it. But of course, it never happened."
At least some of the attackers had worked as labourers on the building for at least two weeks, the BBC was told, and had taken ammunition inside gradually.
One official said this was "a clear intelligence failure" and asked whether the workers' backgrounds were checked by the building's owners and management.
"Why didn't intelligence and police identify labourers in such a strategic building? This was an operation that must have taken over a month if not more," he said.
A top counter-terrorism official said there was "enough evidence" to blame the Taliban-affiliated organisation, the Haqqani network, for Tuesday's attack.
Another said the network was trying to extend its reach into Wardak, Loyar and Ghazni provinces.
"These areas are like Kabul's throat - the want to strangle Kabul," he said.
There have been repeated statements by Western officials and Nato and Afghan leaders that the Taliban and other insurgent groups are weak, and that the timetable for foreign troops pulling out remains on course.
But most Afghans remain sceptical and are deeply worried about the ability of the Afghan government and Nato to protect them.