India: Ten killed in train collision in Tamil Nadu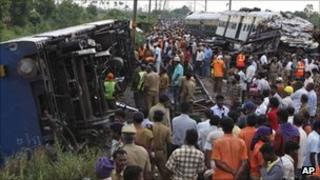 Ten people have been killed and more than 70 injured in a train collision in southern India, police said.
Officials said the crash happened when a passenger train hit a stationary train in Tamil Nadu near Arakkonam in Vellore district late on Tuesday.
Eight coaches were derailed and three were completely damaged in the incident, reports said.
Accidents are common on the state-owned Indian railways, an immense network connecting every corner of the country.
It operates 9,000 passenger trains and carries some 18 million passengers every day.
It was not immediately known how many people were on board the two trains. Emergency teams have been sent to the accident site.
Investigations are on to find out whether the incident was caused by a signalling error or whether the driver of the suburban train had ignored a signal.
Officials said that a suburban train travelling between Chennai (Madras) Beach and Vellore collided into a stationary passenger train that was waiting for signal at the Chitheri station.
Some people are still believed to be trapped in the carriages, officials say.
This is the fourth serious rail accident in India since July.
Last month, at least three people were killed and 200 injured in a train collision in West Bengal.
In July, at least 69 people were killed and almost 250 injured when a passenger train derailed in Uttar Pradesh.
A week before the derailment, 38 people died in Uttar Pradesh when a train hit a bus carrying a wedding party.