Man held over Delhi blast claim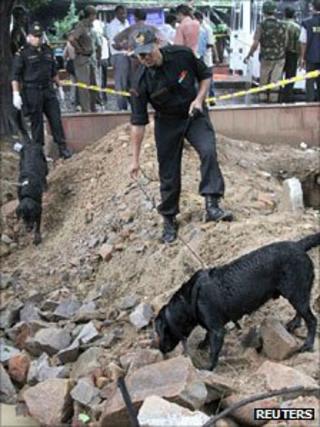 Police in the Indian state of Gujarat have arrested a man for sending an email in the name of an Indian militant group and claiming responsibility for last week's bomb attack in Delhi.
Manu Oza, a computer operator, was held in the state capital, Ahmedabad, for sending the fake email, police said.
Thirteen people died and 76 others injured in the blast on the high court.
India's Home Minister P Chidambaram has said it is likely that an attack was carried out by a group based in India.
The two groups who have purportedly said they carried out the attack are Harkat-ul Jihad al-Islami (Huji), which has Pakistani origins and is accused of links to al-Qaeda, and the Indian Mujahideen.
With the arrest of Mr Oza, the email claim from Indian Mujahideen has turned out to be a fake.
The email reportedly sent by Huji was traced to a cyber cafe in Indian-administered Kashmir and police there have detained five people.
The police said Mr Oza, 23, was a hacker, and had used the name of a foreign militant as the sender of the email.
The Indian government is under increasing pressure following the latest attack, with concerns that its security and intelligence agencies are still not in a position to handle the growing threat despite pledges to do so following the 2008 Mumbai attacks.