Afghan truck bomb hits US troops in Wardak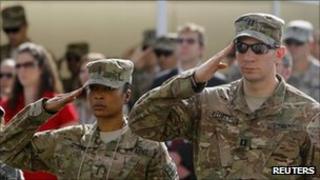 Almost 80 US troops have been injured and two Afghan civilians killed by a suicide truck bomber on a military base in the eastern Wardak province.
None of the injuries are life-threatening, Nato says.
Rockets were also fired at the US military base in Bagram.
News of Saturday's attacks came as the US embassy in Kabul marked the 10th anniversary of the 9/11 attacks which prompted the US military operation to oust the Taliban in Afghanistan.
Ambassador Ryan Crocker acknowledged that many in the US were "tired" of the 10-year war in Afghanistan but said the US troops must remain in the country.
"We're here so there is never again another 9/11 coming from Afghanistan's soil," the AFP news agency quotes him as saying.
The Taliban, which gave sanctuary to al-Qaeda chief Osama Bin Laden during its rule in Afghanistan, has said it carried out the attack on the base in Wardak.
It accused the US of using the 9/11 attacks as a pretext to invade Afghanistan.
"Each year, 9/11 reminds the Afghans of an event in which they had no role whatsoever," the Taliban said in a statement emailed to the media.
"American colonialism has shed the blood of tens of thousands of miserable and innocent Afghans."
US Army spokesman Major David Eastburn said the explosives "detonated near the entry point at a combat outpost, resulting in 89 wounded in action and a 20-foot [six-metre] hole in the wall".
"Fewer than 25" Afghan civilians were also injured in the attack, the Nato-led International Security and Assistance Force (Isaf) said.
A three-year-old girl reportedly died on her way to a clinic.
Following the attack in Bagram - the largest US military base in Afghanistan - a run by members of the US military to mark the 9/11 attacks was cancelled.
The US has about 100,000 troops in Afghanistan, with some 33,000 due to leave within the next year.