Human Rights Watch condemns 'draconian' Sri lankan laws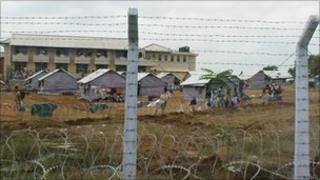 Human Rights Watch has urged Sri Lanka to repeal detention laws which the campaign group describes as abusive.
Long-standing emergency laws expired last week, two years after Sri Lanka's decades-long war against Tamil Tiger rebels.
The laws had given the authorities sweeping powers, including the right to detain terror suspects without charge.
But HRW accuses Sri Lanka of maintaining "draconian" legislation which gives it similar powers.
The New York-based group said the 1979 Prevention of Terrorism Act (PTA) and other laws and regulations permitting detention without charge leave an abusive detention regime in place. Proposed legislation would allow the authorities to continue to detain more than 6,000 people now held under emergency regulations, added HRW.
There has been no response so far from the Sri Lankan government to the criticism.
'Cynical bait and switch'
The emergency laws - which gave the authorities powers of search, arrest and detention had allowed the authorities to detain suspects for a year without bringing them to trial.
They had been in place on and off since 1971 and were renewed by parliament every month - even after the end of the separatist war in 2009.
The outgoing attorney-general, Mohan Peiris, told the BBC the expiry of the emergency laws would trigger the release of long-term prisoners - apparently a reference to Tamil Tiger suspects. But he later told journalists that no such people would in fact be freed.
Human Rights Watch says that even with the end of the emergency laws, the Sri Lankan government will retain what it calls "draconian" and "abusive" powers of detention through the PTA.
This allows people to be arrested for "unlawful activity" and held for up to 18 months without charge, merely coming before a magistrate every three months.
"The Sri Lankan government announced that the state of emergency is over, but it is holding on to the same draconian powers it had during the war," said Brad Adams, HRW's Asia director.
Foreign governments critical of Sri Lanka should not be "fooled by this cynical bait and switch", he said.
There is still a dominant feeling of relief among many Sri Lankans that the war is over and they no longer live in fear of militant attacks, says the BBC's Charles Haviland in Colombo: Some thank the stringent laws for that, but others ask whether they are still necessary.
And there seems little prospect of the overall legal framework being softened, adds our correspondent.
Under a new special gazette, Mr Rajapaksa now has special powers to use the army, navy and air force to keep public order throughout the country.