'Corrupt' Indian official's house turned into school
By Amarnath Tewary
Patna, Bihar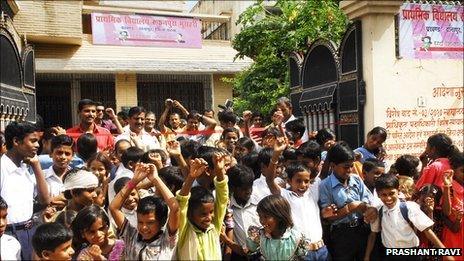 The house of a senior Indian civil servant on trial for corruption has been turned into a school for slum children.
Shiv Shankar Verma had his property in the Bihar state capital, Patna, confiscated under new state laws.
Mr Verma denies amassing wealth disproportionate to his income.
It is thought to be the first time such a law has been used in this way in India, which has been hit by a series of corruption scandals.
The school opened on Thursday to the delight of about 100 children, mainly from the Dalit (formerly untouchable) community.
Mr Verma's three-storey house in the Rukunpura area of Patna was seized on Sunday as part of Chief Minister Nitish Kumar's drive against corruption in Bihar, one of India's poorest states.
The civil servant is charged with accumulating more than $335,000 in illegal wealth.
"The palatial house is now a government primary school," said a senior government official, Anjani Kumar Singh.
Most of the pupils at Primary School Rukunpura are from the Musahar (rat catcher) community. They were visibly excited at their new premises.
"Our previous school building was dilapidated and stinking from every corner… this one is quite new and well-maintained. We'll enjoy coming here every day to study," said Amit Kumar who is in his third year at primary school.
Under the Bihar Special Courts Act 2009, the state government is empowered to confiscate the property of any official charged with corruption - even while the trial is under way and a conviction has yet to be secured.
Officials from Bihar's State Vigilance Unit raided Mr Verma's house in July 2007 and found large amounts of gold and foreign currency.
Mr Verma is currently suspended from his post at the state's irrigation ministry.
Neither he nor his lawyer were available for comment following the confiscation of his house.
He has appealed against the decision to confiscate his assets in the Supreme Court.
"If he gets relief from the apex court and wins the case the state government under the new act has to return the properties of the official with 5% interest," said an official of the state government.
Bihar officials have lodged corruption cases against nearly 20 other government officials, including a former state police chief.
Related Internet Links
The BBC is not responsible for the content of external sites.