Bombs bring sickening sense of deja vu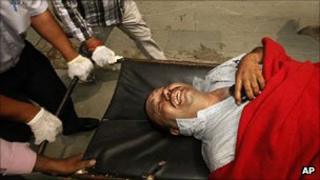 There seems to be no respite from terror in India.
Two months after 26 people were killed in Mumbai (Bombay), Delhi has been attacked again. Shopping areas, bus stops, cinema halls and a mosque have been targeted in recent years in the capital. On Wednesday morning, people queuing up to enter its busy high court bore the brunt of what is reported to have been a "briefcase bomb".
The capital has been a target of militant groups for a long time. I calculate that in the past 13 years, more than 100 people have been killed in some 31 blasts in the city, most of them in serial explosions in busy markets in 2005 and in 2008.
Terror brings a sense of déjà vu in this part of the world. It begins with a stark news flash on television screens, followed by sickeningly familiar images and sounds which run on a loop - bloody bodies being dragged into ambulances, relatives of victims wailing outside hospitals, the air filled with ominous police and ambulance sirens. India's febrile media ask familiar questions: why were there no CCTVs outside the high court? Or were the CCTVs not working? The interior minister makes now familiar remarks to parliament - India will not bow to terror, investigations are continuing - and sends commiserations to the victims' families.
This time, Home Minister P Chidambaram says - rather tantalisingly - that the Delhi police were given intelligence in July about "threats emanating from groups". What were these threats? Did the police act upon them? Is the government passing the buck? Most of the time, Indians never find out the truth or who the perpetrators were, because they are never found.
Time will tell whether those who bombed the Delhi court will be brought to justice or whether the attack will join the long list of unsolved terror cases. We still don't know who was responsible for Mumbai's July attacks. Are these recent attacks the handiwork of homegrown groups like the Indian Mujahideen? Or are these the work of foreign groups? Or are new subcontinental terror networks being forged between various smaller groups in the region? If the homegrown groups are to blame - as Mr Chidambaram hinted when he said the Mumbai blasts might have been the work of an "Indian module" - why have they become more active now?
What we do know is that India has an embarrassingly shoddy record of conviction when it comes to terror attacks. What we also know is that three years after the Mumbai attacks, Indian cities still remain ill-equipped to prevent terror attacks.
In a chilling admission to journalist Barkha Dutt after July's Mumbai bombings, Prithviraj Chavan, chief minister of Maharashtra state, said he could not contact the police in his own city for 15 minutes after the blasts because of the congested mobile phone networks. (India has the some of the world's cheapest mobile phone services, but the quality of networks is appalling.) He spoke about a proposal to procure 5,000 CCTVs for Mumbai being stuck in red tape. "We have the money," Mr Chavan said, "but if you can't procure things which are required [to tackle terror attacks] then there is obviously something wrong."
Very, very wrong, most Indians would say.