Indian bus accident kills 15 people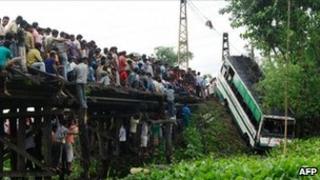 At least 15 people have been killed after a bus plunged into a river in India's Uttarakhand state, police say.
The bus was travelling from Katiyal to the state capital, Dehradun, when it fell into the Tons river on Sunday.
Rescue workers are looking for eight passengers who are still missing, the police said.
Bus crashes are common in India. Often caused by poorly maintained vehicles and reckless driving, they claim thousands of lives every year.
In January, at least 22 people were killed and 24 others injured when a bus carrying holidaymakers plunged into a gorge in Uttarakhand.