India mining scandal: G Janardhana Reddy remanded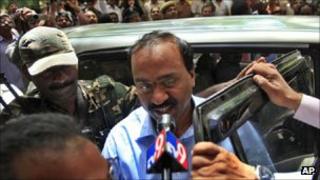 A former minister in India's southern state of Karnataka has been arrested and remanded in custody for 14 days in connection with a mining scandal.
G Janardhana Reddy, also a mining businessman, had been named in a report which said the alleged scam cost the state more than $3bn over four years.
Investigators also remanded BV Srinivas Reddy, the head of a mining company owned by the former minister.
Both men were charged with forgery and violation of forest and mining laws.
They have denied any wrongdoing.
The pair appeared before a Central Bureau of Investigation (CBI) court in Hyderabad on Monday afternoon.
The CBI began a probe into the matter following allegations of illegal mining in reserved forest areas.
There were also allegations of irregularities in the allocation of mining leases to a company called the Obulapuram Mining Company, owned by G Janardhana Reddy and run by BV Srinivas Reddy.
Last month Karnataka Chief Minister BS Yeddyurappa resigned after he was also indicted in the scandal.
Both men are members of the BJP, the party which is in government in Karnataka but in opposition nationally. Mr Reddy is a prominent mining baron, and served as the tourism and infrastructure minister in the BJP-run state.
Ten federal agents took him from his home in Bellary district early on Monday.
Correspondents say illegal mining has been rife for years in Karnataka. The state produces about 45 million tonnes of iron ore per year and exports more than half of it to China.
An ombudsman report on mining in Karnataka has found that the promoters of privately-owned mining companies in the Bellary region - where most of the mines are located - paid off politicians, and then joined politics themselves, rising to positions of power in the state government.