Pakistan Taliban abducted boys 'to punish Mamund tribe'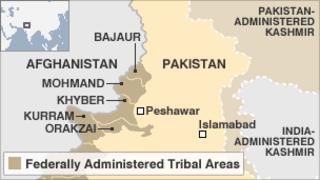 The Pakistani Taliban say 25 boys they have abducted were kidnapped as a punishment for pro-government tribesmen who have been fighting the militants.
Dozens of boys from the Mamund tribe were on an outing in the tribal region of Bajaur, along the Afghan border, when they were abducted on Thursday.
Family members and tribal elders are reported to be involved in efforts to secure the boys' release.
Members of the Mamund tribe live on both sides of the border.
'Devastated'
A Taliban spokesperson, Ehsanullah Ehsan, said the mass kidnapping had been planned, as the militants had advance knowledge that the boys would be visiting a scenic picnic spot during the Muslim Eid al-Fitr holidays.
He said the fate of the boys would be decided by the Taliban Shura (committee) from Bajaur.
The spokesperson denied that many of the hostages were children.
But Waheedullah, an eyewitness who escaped the abduction, told the BBC that most of the boys were below 18, with some as young as 10.
Mohammed Jan, the father of 14-year old Rehmatullah, who is among those kidnapped, said: "Our family is devastated. All we can do is pray for his safe return."
The Taliban are said to have demanded the release of some prisoners held in Pakistan in exchange for the boys. But this has not be confirmed by Pakistani officials.
Over the past few years, influential members of the Mamund tribe have sided with Pakistani military and raised private militias to fight the Taliban.
The government says the cooperation has helped clear the area of Taliban influence.
It says many militants have based themselves across the border in Afghanistan's eastern province of Kunar, from where they are known to have carried out attacks in north-western Pakistan.