Militants 'kidnap' Pakistani boys on Afghan border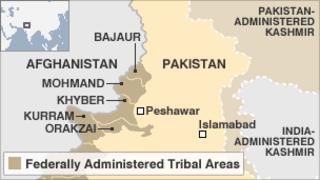 Militants have kidnapped about 30 Pakistani boys who mistakenly crossed the Afghan border, officials say.
The boys, aged between 10 and 15, had been visiting a local beauty spot in Pakistan's Bajaur tribal region to celebrate the Muslim festival of Eid.
They were seized on Thursday but the news was not made public as tribal elders tried to arrange their release.
Securing the long, porous border between Pakistan and Afghanistan has long posed a major challenge.
Some of the older children in the group managed to escape kidnap and run back to alert local tribal elders of the mass abduction, Pakistani officials told BBC Urdu.
"These boys inadvertently crossed into Afghanistan while picnicking on the second day of Eid and were kidnapped by militants," senior local administration official Syed Nasim was quoted as saying by the AFP news agency.
This is not the first mass kidnap of Pakistani boys in Pakistan's tribal areas. In June 2009 dozens of students aboard travelling in a convoy were kidnapped by the Taliban in the volatile Pakistani tribal region of North Waziristan, close to the Afghan border.
They were all released after a few days.
Correspondents say that many of the militant groups operating along the frontier between Pakistan and Afghanistan are closely linked.
Pakistani authorities have previously accused the Taliban of being involved in kidnappings for ransom to fund their cross-border insurgency.