Sri Lankan introduces new 'anti-terror' legislation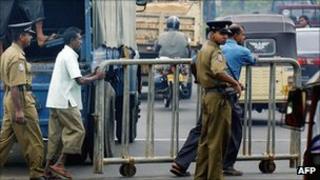 The Sri Lankan government has introduced new legislation allowing it to continue holding terror suspects without charge.
The move came as the country's controversial emergency laws were brought to an end on Tuesday night.
The laws - which were first introduced in 1971 - were reintroduced during the war against Tamil Tiger rebels.
But now, partly as a result of international pressure, they have been been allowed to lapse.
In an interview with the BBC, Justice Minister Rauf Hakeem said that more than 1,000 suspects detained under the draconian emergency laws were likely to be freed next month.
"Between 1,200 and 1,500 people in detention may get released but there are some more who need to be kept in custody," he said.
Mr Hakeem said that people in this category were "hard-core terrorist suspects" who were likely to be detained until charged.
The new legislation allows the government to keep an undisclosed number of these suspects in prison, correspondents say.
Without the introduction of the new laws, they would have been freed because because of the expiry of the state of emergency.
Alleged atrocities
Mr Hakeem said that the new legislation was in addition to the existing Prevention of Terrorism Act (PTA).
The government has said that a ban imposed on the defeated Tamil Tigers and a front organisation would continue indefinitely.
After the defeat of the rebels in 2009, the government said that it was holding about 12,000 insurgents in custody - but most of them have been freed during the past two years.
The emergency laws - which were renewed by parliament on a monthly basis - had been in place on and off since 1971, and gave the security forces sweeping powers of arrest.
The decision to end emergency rule came ahead of next month's United Nations Human Rights Council meeting in Geneva, which is expected to discuss alleged war crimes during the last stages of the ethnic conflict.
The US has been leading international calls for an investigation into alleged atrocities committed by both sides.
Colombo has so far managed to fend off censure from UN bodies, thanks to the support of allies China and Russia, correspondents say.