Indian army rescues elephant trapped in a water tank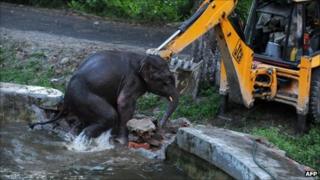 Soldiers in India have used a bulldozer to rescue a young wild elephant that was trapped in a water tank inside a military area.
The three-year-old elephant was only able to clamber out of the sunken pit when the digger destroyed some of the tank's surrounding wall.
A group of elephants were crossing the area when the young elephant fell into the pit and got stuck.
India is home to many of the world's Asiatic elephants.
But their population has fallen in recent years.
Deforestation, poaching and human encroachment onto their living areas have forced many elephants to move out of their natural habitats in search of food and water.
The elephant herd was crossing the Bengdubi army quarters 24km (15 miles) from the city of Siliguri in the state of West Bengal when the incident happened.
Soldiers of the 16 Field Ammunition Depot were called into action alongside the elephant squad of the Mahananda Wildlife Sanctuary.