Gulf Air plane skids off runway in India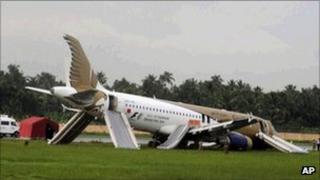 Seven passengers were injured when a Gulf Air plane skidded off the runway as it came in to land at Kochi airport in the southern Indian state of Kerala.
Officials said the 137 passengers and six crew arriving in bad weather from Bahrain had a narrow escape.
The Airbus 320 came to a halt in mud some 30 metres from the runway and narrowly avoided hitting a wall.
Kochi airport cancelled a dozen flights and others were delayed or diverted. An inquiry has begun into what went wrong.
Most of the passengers were overseas Indian workers returning from Bahrain and neighbouring Saudi Arabia.
'Jumped too soon'
"Gulf Air flight GF270 deviated from the runway at 0355 [2225 GMT] this [Monday] morning," news agency Press Trust of India (PTI) quoted airport director ACK Nair as saying.
Mr Nair said because the nose of the plane was damaged, the emergency ladder did not work.
"So a rescue team started bringing ladders to the site. But before they arrived, people began to jump," AFP news agency quoted him as saying.
"All those injured were injured because they jumped out too soon."
One passenger was admitted to a nearby hospital while others had been discharged after first aid, he said.
Officials said it was very windy and raining heavily at the time of the landing.
"The preliminary investigation revealed bad weather and poor visibility caused the accident," AFP quoted an unnamed airport official as saying.
The Directorate General of Civil Aviation (DGCA) has launched an inquiry.
In May last year, a passenger plane overshot the runway while landing in the southern Indian city of Mangalore, killing 158 people.