Pakistani slain governor Salman Taseer's son abducted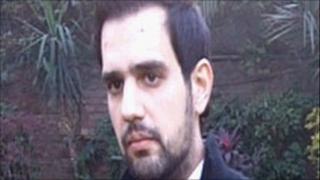 The son of assassinated Punjab governor Salman Taseer, who was killed in January for opposing the blasphemy law, has been abducted, Pakistan police say.
Shahbaz Taseer's car was intercepted by four men in Lahore city's upscale Gulberg area on Friday.
It is not known who seized Mr Taseer but his family said they had received "threats from extremist groups".
Governor Salman Taseer was assassinated by his own bodyguard Mumtaz Qadri as he was about to get into his car.
"Four men in a car intercepted Shahbaz Taseer's car," news agency AFP quoted police emergency official Syed Mumtaz as saying.
"They overpowered him at gunpoint and forcibly put him in their car and sped away," he said.
Police said they have launched a search for Mr Taseer.
His brother Sheryar Taseer told Reuters that their family had been receiving threats from the Taliban and extremist groups and that they could be behind the abduction.
Punjab Governor Salman Taseer was one of Pakistan's best-known political figures.
His killer said he was angered by the governor's support for reforming Pakistan's controversial blasphemy law.