Lashkar-e-Taiba says rebel killed Kashmir cleric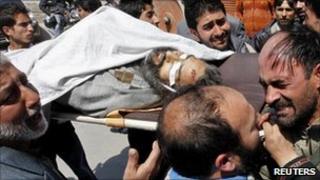 The Pakistan-based militant group Lashkar-e-Taiba says a rebel from another group killed a prominent cleric in Indian-controlled Kashmir.
Maulvi Showkat, a moderate separatist leader, was killed in April as he entered a mosque in Srinagar.
In a report submitted to an inquiry into the killing Lashkar-e-Taiba blamed a rebel, later detained by the police, from the Tehrik-ul Mujahideen group.
The killing came in the midst of a lull in violence in the strife-torn region.
It was the first attack of its kind since 2009 when separatist leader Fazal Haq Qureshi survived an attempt on his life.
The Lashkar-e-Taiba(LeT) report to a probe set up by separatist groups into the killing said: "Earlier we thought the Indian army or its agencies killed Maulvi to defame the movement and create misgivings. We had not even imagined that the murderer would turn out to be our own men."
It was earlier reported that LeT had said one of its own men was responsible for the killing.
But the LeT report claims that the man responsible for the attack belonged to another militant group.
The report indicates that the LeT were shocked to discover that a rebel from another militant group was involved, and brands the rebel a "traitor"
This was the third attempt on Maulvi Showkat's life in recent years.
He was a well-known supporter of the separatist movement, which wants an independent Kashmir.
But he was considered to be a moderate voice and was a close ally of the pro-independence Jammu and Kashmir Liberation Front.