Indians succumb to anti-corruption fever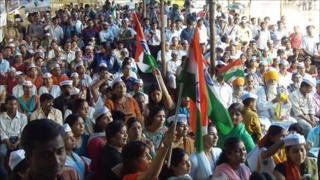 The campaign waged by hunger striking anti-corruption campaigner Anna Hazare has captured the imaginations of a large cross-section of society - a group of people ranging from surgeons to students, the BBC's Zubair Ahmed reports from the Indian city of Mumbai (Bombay).
A corner at the vast Azad Maidan (Azad Ground) in Mumbai has been transformed into a veritable human beehive.
Surrounded at times by a large crowd, a team of men and women are sitting on a raised platform and are fasting in this well known public area to demonstrate their support for Anna Hazare, the hunger-striking social activist.
Doctors volunteer to keep an eye on the health of those who have gone without food for the past 10 days.
A physiotherapist, an ardent fan of Anna Hazare, is busy giving massages to those whose bodies are beginning to show the effects of food deprivation.
'Another Gandhi'
They are mostly students, but old men and women are also there in large numbers. They encourage the hunger strikers by shouting slogans and holding placards; such is the level of support that Mr Hazare has succeeded in capturing.
Vijay Jadhav has travelled 400km (250 miles) in his rickety cart to Mumbai to join those fasting in support of the "anti-corruption crusader".
He calls the social activist a second Mahatma Gandhi - India's independence hero - and even describes him as a god.
"I have not seen God and I have seen Gandhi only in photos. But we are lucky we have seen Anna, another Gandhi, in real life. We are lucky. I can see the qualities of the two in Anna," he proclaims.
Mr Jadhav has vowed to continue with his hunger strike "for as long as Anna's fast lasts".
"I'll give my life for him if he needs it," he solemnly pledges.
Like Mr Jadhav, hundreds of farmers have descended on Mumbai to attend rallies in support of Mr Hazare.
Brief chats with those attending over the past few days reveal they have pinned their hopes on the social activist to tackle India's rampant corruption.
Scourge of graft
One of them said to me that he was fed up with bribing people in government offices.
"Wherever you go babus (officials) ask for a bribe. Your work will not be done if you don't pay up."
Another person attending the event is social activist Kiran Junedi, who is angry with the media for focusing only on corruption in high places.
She argues that the scourge of corruption is more rampant and unaccounted for in small government offices, which directly affect the lives of ordinary people.
Perhaps this is why the response to Anna Hazare's "fast unto death" has been overwhelming in his home state Maharashtra.
Every day, students, teachers, lawyers and doctors process in support of him in many towns and cities of the state.
Anna Hazare was well known in Maharashtra before his anti-corruption crusade catapulted him on to India's national consciousness. Now he has become a cult figure, a youth icon in Mumbai.
"I felt that we were very good at talking about corruption in cafes and restaurants, but very few actually opposed it by action," says heart specialist Ratna Maghotra, one of the 20 on hunger strike in Azad Maidan.
"Therefore, I joined Anna's cause. I fasted with him for four days in April and since then I have been fasting every Wednesday - and now I am here fasting again."
Students sent away
She has been living on warm water for the past 10 days and looked decidedly frail as she lay motionless on the dais.
Urmila, a teacher in a state government school, has abandoned work to join the fast.
She too looked weak in body but not in her resolve to continue with her protest.
"I will continue until the government accepts Anna Hazare's demands," she said.
And there are signs now that far from diminishing, the hunger strikes could spread to other parts of the state of Maharashtra and across the country as a whole.
"In fact, there were 70 of us from day one," one of the Mumbai protesters tells me.
"But the majority were students. We told them to end their fast and sent them instead to nearby villages to encourage farmers and workers to support Anna Hazare's noble fight against corruption."