Confusion over 'rescue' of US man in Pakistan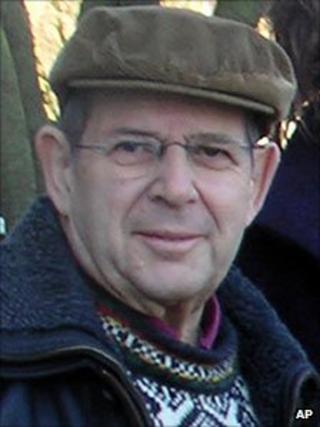 Confusion surrounds the reported release of a US citizen in Pakistan after a senior policeman retracted a statement that he had been freed.
It was announced on Thursday that development expert Warren Weinstein had been freed after he was abducted in the city of Lahore 12 days ago.
But Lahore police chief Malik Ahmed Raza Tahir has now said that he cannot confirm that Mr Weinstein is free.
The US Embassy has also said it has no evidence that he has been recovered.
"We have no information that would confirm recovery of Warren Weinstein, but we are hoping for a positive outcome," it said in a message on the Twitter website.
Earlier, police said Mr Weinstein was recovered from the city of Khushab, some 200km (125 miles) north-west of Lahore.
He has been in Pakistan for at least five years and was to return to the US on 15 August.
While the abduction of Pakistanis for ransom is common, only a few foreigners have been targeted by militant and criminal groups.
Mr Weinstein was abducted before dawn on 13 August when eight gunmen tricked his guards and broke into his home.
He is the country director in Pakistan for JE Austin Associates, a US-based firm that advises a range of Pakistani business and government sectors.
Police say they have arrested three people suspected of belonging to the gang that kidnapped him. Their arrests were made after officers tracked their mobile phone numbers.
They have also released a black-and-white sketch of a possible suspect in the kidnapping. Correspondents say that it is unclear if the man is one of the three people who have been arrested.
Mr Weinstein reportedly lived mainly in Islamabad but travelled to Lahore. He is described on the firm's website as an "expert in international development with 25 years' experience".
US-Pakistan ties have been strained since a US military raid in Pakistan killed al-Qaeda leader Osama Bin Laden in May.
In February many Pakistanis were angered when CIA contractor Raymond Davis shot dead two men he said were trying to rob him in Lahore.
He was freed and sent home after the US paid compensation to the families of the dead.
The last such incident involving the kidnapping of foreigners was in July when a Swiss couple was kidnapped in the south-western province of Balochistan.
Five-year-old British boy Sahil Saeed was kidnapped when visiting his grandmother's home in Punjab province in March 2010.
He was released after being held for 12 days when a $180,000 (£110,000) ransom was paid by his family.