Anna Hazare: India activist call to protest at PM house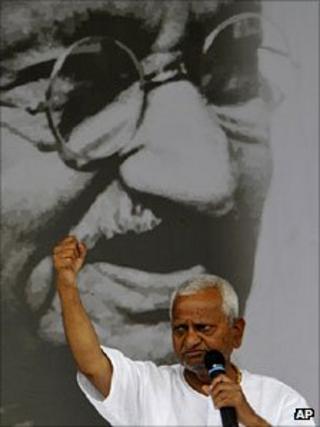 India's fasting activist Anna Hazare has called on his supporters to gather outside the PM's house to "appeal to him to listen to the common man".
Talks broke down between the government and Mr Hazare's aides on Wednesday night over a strong anti-graft law.
Mr Hazare's aides said they "were back to square one" after three rounds of talks failed to reach a breakthrough.
Meanwhile, parliament has appealed to the activist to end his fast, which has entered its 10th day.
The activist's aides say he has lost more than 5kg (11lbs) and is weak.
Mr Hazare, who is on a hunger strike at Ramlila grounds in Delhi, has refused doctors' advice to be put on an intravenous drip to help him rehydrate.
Mr Hazare's supporters are demanding the government pass their proposed anti-corruption bill within four days.
The government says that it proposes to introduce a new anti-corruption bill which will include suggestions contained in the bill drafted by Mr Hazare's team.
"We are urging supporters to gather outside Seven Race Course Road [the prime minister's residence] at 5pm [1200GMT] today [Thursday] to appeal to Prime Minister Manmohan Singh to listen to the voice of common man," Arvind Kejriwal, a key aide of Mr Hazare, said.
"If no agreement is reached by Saturday, we will ask the whole country to come to Delhi to join the protest," he added.
Earlier, Mr Kejriwal said the talks had broken down because the government had "gone back on their assurances", and the negotiations were "back to square one".
'Disappointed'
He said the government had "agreed to introduce" Mr Hazare's anti-corruption bill in parliament during talks on Tuesday, but went "back on its word" after Wednesday night's meeting.
Mr Hazare's team was asked then "to send a new draft that will be sent to parliament".
Prashant Bhushan, another aide of Mr Hazare, said the government had earlier appeared to be "sympathetic" to most of their demands.
"But [after Wednesday's meeting] we have been told that parliamentary procedures cannot be short-circuited. That some timeline will have to be adhered to, though it is not clear what the timeline will be. We are quite disappointed with today's meeting."
The two sides are expected to hold a fourth round of talks on Thursday.
Mr Hazare has told his supporters to be peaceful and not resist any attempts by the police to remove him from the protest site.
He also asked them to gather outside the homes of MPs and protest and go to jail if he was arrested or taken away forcibly to the hospital.
Prime Minister Manmohan Singh had already appealed to Mr Hazare to end his public demonstration in Delhi.
Correspondents say that while there was unanimity among all political parties during Wednesday's meeting for him to end his hunger strike, many MPs complained that his demands would undermine the sovereignty of the Indian parliament.
In April, Mr Hazare called off a hunger strike after four days when the government said he could help draft legislation to create a special ombudsman or lokpal - an independent body with the power to investigate politicians and civil servants suspected of corruption.
The final version of the bill was presented in early August, but Mr Hazare and other activists rejected it because it said the prime minister and senior judges would be exempt from scrutiny.
India has recently been hit by a string of high-profile corruption scandals which critics say is evidence of a pervasive culture of corruption in Mr Singh's administration.
A recent survey said corruption in Asia's third largest economy had cost billions of dollars and threatened to derail growth.