Rocky handover for Afghan province vacated by Nato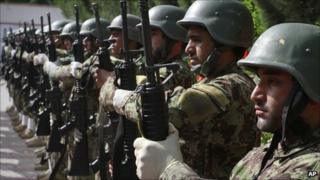 It has been over a month since the Nato-led coalition in Afghanistan began the process of handing over responsibility for security to Afghan forces. The BBC's Bilal Sarwary travelled to Mehtar Lam - the provincial capital of the eastern province of Laghman - to assess the progress of the handover in one of the first areas to be vacated.
Mehtar Lam is now in the hands of Afghan National Army and police. They have a difficult job on their hands because it is still a centre of killings and violence.
Just the night before my arrival, heavily armed insurgents carried out a daring attack on a joint army and police patrol in the heart of the city.
Afghan security forces retaliated. Rockets, grenades and machine gun fire was exchanged for some 45 minutes before the insurgents escaped under the cover of darkness.
Although there were no casualties, the clash shattered any hopes for peace that may have been harboured by the local population.
Gateway to Kabul
"Bullets rained on our house which was close to the site of the clash," one resident told me. "We were so terrified that we didn't step out of our house until the next day."
Another resident said by launching an attack in Mehtar Lam, the insurgents wanted to show that they can still strike at will in any of the seven locations handed over by Nato to Afghan security forces.
In the past month insurgents have killed a judge, a prison guard and a local official in this strategic city known as the gateway to Kabul.
Security handovers like the one in Mehtar Lam are seen as the first step in a lengthy process ultimately aimed to put the Afghan army and police in control of their country by 2014, the deadline for complete withdrawal of Western forces from combat operations.
But judging by developments in Mehtar Lam, the road to transition appears to be far from smooth.
"People live in fear," said Shah Gul, a barber. "People think that if the security forces can't protect themselves, how will they protect the people?'"
Insurgents - mainly in the shape of the Taliban or the Hizb-e-Islami militia of former Prime Minister Gulbuddin Hekmatyar - are active in many districts of this mountainous province.
Laghman borders the eastern provinces of Nuristan and Kunar.
"This allows insurgents to carry out attacks in Laghman and then escape to Nuristan or Kunar," said an Afghan intelligence officer.
"By targeting cities handed over to Afghans, the insurgents and their foreign backers intend to prove that Afghan security forces are not capable of protecting their people."
The endemic corruption in these areas also helps the insurgents. People are so frustrated with the local government that they are not averse to offering logistical support to the insurgents. Sometimes they even join their ranks to vent their anger.
Many in Mehtar Lam's main bazaar complained about a corrupt judiciary, weak government and private armies run by warlords.
"We need a lot of support from the West. We need better weapons and vehicles, like the Americans have, for our police," said local teacher Shah Jahan.
"No doubt the Taliban have better weapons and they are disciplined. But what goes most against the government is that people have no trust in official machinery."
But Laghman governor Iqbal Azizi rejects this prognosis.
"Sometimes our achievements are underestimated," said Mr Azizi, one of the youngest governors in the country.
"We are making good progress. I am confident that our forces are being trained like [US] special forces, who can conduct their own operations."
But not very far from his office, it is not difficult to find worried residents.
A local trader said that there has in fact been an increase in violence since Afghan forces took over Mehtar Lam.
'Harass people'
"We don't feel confident to invest. There are a lot of armed robberies in the city, forget about the districts," the trader said.
Dr Nader Shah - who works in one of Laghman's districts - summed up the views of many.
"There are many governments here," he said.
"The Afghan government is mostly consigned to its offices, [unlike] the government of Arbakis (tribal militias) and the Taliban. In my district, music is banned. The Taliban collects taxes and the Arbakis harass people."
Recently, the authorities in the province created a new district, Badpakh. But the district governor and other officials cannot go there, a local tribal elder from Badpakh said.
Like many other Afghan provinces, the writ of the central government does not extend to Laghman's districts and villages.
"Insurgents often stop vehicles on roads connecting districts and the provincial capital," a taxi driver said. "They beat you up if you are found playing music, they capture or kill you if you are found working for the army or police.
"Two of my sons were in the army. The Taliban sent a warning through the village mullah [cleric]. When I didn't listen, they threw a grenade at my house. I had to leave my village," he said.
For villagers like Shah Khan and Mohammad Abdullah, both involved in separate land disputes, corruption is what binds them.
"I have documents to prove that I own the land," Mr Khan said. "But the judges have accepted bribes from other people and ruled in their favour."
A senior police official in Mehtar Lam admits such problems exist. He blames them on a lack of policemen.
"I don't have a lot of police to protect a lot of the areas, so there is a vacuum," he said. "But we are training young police. It is only a matter of time before we can overcome this problem."
Not everyone shares such unbridled optimism.