India iconic footballer Baichung Bhutia retires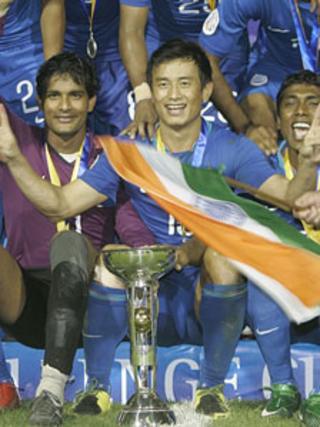 India's former football captain Baichung Bhutia has announced his retirement from the international game.
The 34-year-old star striker has been struggling with injuries.
Bhutia was the first player from the sub-continent to sign a professional contract with a European football club when he signed for Bury in 1999.
He is also the only Indian footballer to play more than 100 matches for his country during his distinguished 16-year career.
"I had a fantastic 16 years of international football. I enjoyed every moment to have represented the country, to have contributed to the game," Bhutia told reporters on Wednesday.
"I wanted to continue playing but the last seven-eight months have been frustrating due to a lot of injuries. So I have decided to quit," he added.
The footballer said he would continue to play for his club, United Sikkim FC, which he founded.
"Lot of things in life do not happen the way we wish so I am quitting from international football but will continue playing for my club," he said.
Bhutia scored 43 goals in international football, the highest by an Indian footballer. He played for Bury FC in England for three years until 2002.
India won a premier South Asian championship three times under his captaincy.
Bhutia, a Buddhist, comes from the north-eastern Indian state of Sikkim.
India is ranked 158 among the 203 football playing countries, according to soccer's governing body, Fifa.