Kashmir graves: What happens next?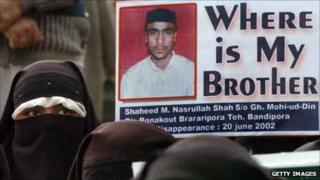 After an official commission in Indian-administered Kashmir said it has evidence that more than 2,000 unidentified bodies have been buried in unmarked graves, the BBC's Jill McGivering assesses what may happen next.
The Jammu and Kashmir State Human Rights Commission is the first government body to confirm what others have previously alleged.
The commission said that 2,156 unnamed bodies have been buried in almost 40 graves across Indian-administered Kashmir over the last 20 years.
Its report has not yet been formally submitted but it has been widely leaked in the media.
The commission's investigation focused on four northern, mountainous districts and involved scrutinising police, mosque and graveyard records, interviewing police and local people and cross-referencing information.
The findings of the commission and its apparent willingness to speak is likely to hearten those who have been doubtful about its credibility.
Independent human rights groups have long insisted that the number of unidentified dead runs into thousands and merits further investigation.
They have repeatedly highlighted the fact that thousands of people have mysteriously disappeared over the last two decades and never been accounted for.
Long, uncertain process
Some accuse India's security forces of abducting local people, killing them and covering up the crime by describing the dead as unknown militants when they are given for burial. The authorities deny such accusations.
The security forces say that the unidentified dead are militants who may have originally come from outside India. They say too that many of the local missing people have crossed into Pakistan-administered Kashmir to engage in militancy.
But this apparent breakthrough is likely to be only the beginning of a very long and uncertain process.
The contents of the controversial report are likely embarrass the Indian security forces and the government and it is unclear whether they will act on the report's recommendations.
These include a call for an impartial investigation and moves to identify the bodies. That would be a slow and complicated process. The bodies would have to be exhumed and subjected to DNA tests.
Comparisons could then be made with DNA samples from the relatives of people who are registered as missing. This may confirm family links.
Fast progress may be crucial. The report, as quoted by the AFP news agency, said that the scope for DNA extraction from the remains of these unidentified bodies "is still very bright". But as time passes, "chances will be more and more reduced."
Bikramjeet Batra, a campaigner on India for the international human rights group Amnesty International, told the BBC that the evidence was indeed vulnerable.
"The authorities need to secure these sites, make sure that DNA collection is carried out in a scientific manner and ensure the safety of witnesses," he said.
If families do discover the remains of their relatives, that would raise fresh questions about the nature of these deaths and about police allegations that they were involved in militancy.
"An essential element, once these bodies have been identified, is to answer the question: what were the circumstances in which they were killed?" said Amnesty International's Bikramjeet Batra.
"If their deaths were unlawful, the people responsible need to be brought to justice"
'Where is my justice?'
In addition to the 2,156 bodies described as unknown by the report, there are 574 graves which have been identified as local residents and their families have been informed.
Twenty-seven year old mother of two Tasleema Nazir is one such widow. Her husband, Nazir Deka, a street vendor, disappeared from their small village in southern Jammu and Kashmir more than four years ago.
His body was found a year later in an unmarked grave about 250 kms (160 miles) from home. He had been shot in the face and chest.
She says that identifying the remains is just the first stage of this process. The second stage is to get justice for the death.
"There are 1,500 women whose husbands have been missing for years," Tasleema told the BBC's Riyaz Masroor in Srinagar.
"I know what happened to my husband. But that is not enough. Where is my justice? The culprits still have not been punished."
The whole issue of extrajudicial killings and the alleged impunity of the security forces in Indian-administered Kashmir is a source of deep resentment amongst many Kashmiris. But militant groups fighting the Indian administration have also been accused of human rights abuses.
A transparent and credible investigation could potentially be healing for a population which has been traumatised by years of violence.
Much will depend though on the political willingness of the authorities to pursue this openly and within a reasonable time-frame.