India crash: 41 pilgrims killed when truck overturns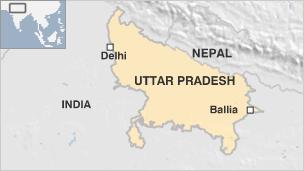 At least 41 people have been killed after a truck overturned and fell into a roadside ditch in the northern Indian state of Uttar Pradesh, police say.
The truck was carrying pilgrims to a temple in the state's Ballia district.
There were more than 60 passengers on board and police said that more than a dozen people were also injured
The ditch was full of water and police said that most of the deaths were due to drowning.
More than 100,000 people die every year in road accidents in India - the highest road death toll in the world.
Most of the accidents are blamed on reckless driving, old vehicles and bad roads.