Indian press condemns arrest of Anna Hazare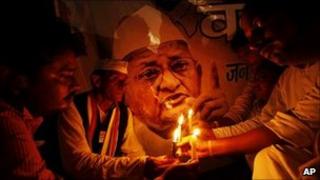 The arrest of India's anti-corruption activist, Anna Hazare, has been widely condemned by the Indian press.
The tone was set by an editorial titled "Corrupt, repressive and stupid" in The Hindu newspaper.
"A corrupt government devoid of moral authority is ill-equipped to deal rationally with legitimate public anger," it said.
"By ordering the illegitimate detention of Anna Hazare before he began his fast in support of stronger anti-corruption provisions in the Lokpal [Ombudsman] Bill and the arrest of a large number of peaceful protesters in the national capital, the government revealed its ugly, repressive face."
"No representative government in a democracy can deny citizens their fundamental right to dissent and peaceful protest," the paper added.
In a front-page report, The Times of India said the government was "groping for a face-saver".
"Anna's tough stance has put the government in a bind. It can let Hazare stay in Tihar [jail] but only at the cost of growing popular resentment: the very same consideration that led to a rethink on his imprisonment."
"On the other hand, permission to let Hazare launch his fast at JP Park will show up the initial refusal of the site as arbitrary and unreasonable."
In a story headlined "Anna arrests Government" , Indian Express said the decision to send Mr Hazare to Tihar did not appear to have been part of the government's overall plan.
"Even government representatives appeared surprised at the news. Sources suggested that the idea had been only to detain Hazare for a few hours so that the protest was thwarted for the time being," it said.
The Economic Times said the authority of Prime Minister Manmohan Singh had suffered a "devastating blow".
"The 'one step forward, two steps backward' decision of the government represents a major setback for the prime minister and his chosen crisis managers, who were pushing for a 'let's-brazen-it-out' approach," it said.
The Pioneer said it was a "clear case of complete government disconnect with the undercurrent of resentment building up against corruption and United Progressive Alliance's perceived arrogance".
The Hindustan Times reported that the government's "ham-handed response" had allowed Mr Hazare to get the upper hand.
"If ever the government needed some advice on how to play this out well, it is now. It has certainly lost the advantage with its iron-fist-in-an-iron-glove approach. So far, it is Team Anna which has hit the ground running," it said.
"Perhaps, like a good cricket team, it is time the government went into a huddle and came up with Plan B before it crashes out of the game."