Is India's cricket debacle the worst ever?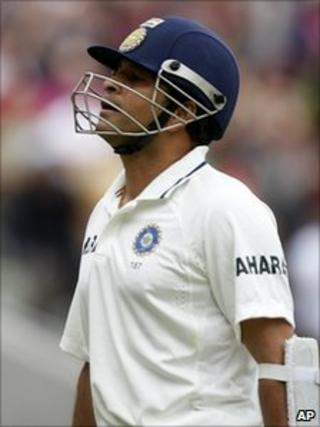 Cricket is a great leveller. For the past 21 months India had been the top Test team in the world. In April they became the world champions, lifting the World Cup after nearly three decades.
Nothing could seemingly go wrong with this indisputably talented team with the best batting line-up in the world. Mahendra Singh Dhoni was the captain with the Midas touch, leading India to dominate the world of cricket in all formats of the game, including the fickle Twenty20.
Staying on top was never going to be easy but Indian fans are shocked by the way India has capitulated to England during this dismal summer.
After their defeats at Lord's and Nottingham, India had actually scored 10 runs less than Bangladesh managed in their two Tests in England last year!
And after the mauling at Edgbaston, India - say most fans - have no face to show. "The margins of defeat are getting bigger and bigger," said an evidently exasperated Dhoni to a TV channel after the defeat.
The unforgiving Indian media is pulling no punches after the defeat. The headlines came blunt and quick on the news channels, moments after Bresnan picked up Sreesanth and put an end to India's agony.
"India Dethroned" appeared to be the most popular headline, followed by screechy ones like "End of Dhoni's Midas touch" and "Dhoni's boys decimated". On one channel I watched an anchor running out of words as he breathlessly screamed: "India has been outplayed, outsmarted, erm, hmm..."
The inquisition of the world's most high-profile, richest cricketers had begun in right earnest with one channel unsparingly highlighting the "villains" of the team.
History is stacked against India in England. India has now only won three of the 16 Test series in England. They did not win a single Test during the first six series and won a Test and a series for the first time only in 1971.
India again won in 1986 and 2007, the second time by a slim 1-0 margin. With overcast, cloudy and cold weather helping ample seam and swing bowling on relatively green tops, England has never been India's favourite playing field.
But expectations were high from this Indian team, which many believed was the strongest ever to tour England.
No-one believed India wouldn't be able to score 300 runs even once in the six innings it has played so far. No one expected India would lose by more than 750 runs in the first three Tests. "This is possibly the worst series we have played in decades," cricket fan and writer Mukul Kesavan told me yesterday evening.
Possibly worse than the sepulchral summer of 1974 when England walloped a weak Indian team 3-0 - twice by an innings - and India were skittled out for 42 - their lowest score ever - at Lord's. Is this the worst ever?
It is clear that a combination of injuries to star players, lack of adequate preparation, absence of a wider pool of Test players and too much cricket thanks to a thoughtlessly crowded cricket calendar rendered India hors de combat.
Former Indian opener Aakash Chopra believes India "lacked a roadmap" for this marquee series, simply not preparing well enough. He is right.
India possibly didn't realise they were up against a team whose batsmen were in peak and insatiable form - England batsmen had scored, for example, six double centuries in the past 14 months alone, compared to eight in the previous 21 years.
Also, hunting in a pack, England's pace attack had been looking menacingly like the best one in the world for months. Over the past 18 months it had averaged 26.55 runs per wicket and struck every 52 deliveries, the best among all teams.
Of the eight top pace bowlers in the world since January 2010, four were English - Tim Bresnan, James Anderson, Chris Tremlett and Steven Finn - with more than 200 wickets between themselves during this period. This was not a team to be taken lightly.
So is the debacle in England the beginning of the end of India's domination as the top Test playing nation? Will India slide further down the ladder or is this a one-off setback and India will rebound soon?
It is difficult to say. The stellar batting superstars and best pace bowler are ageing, the best spinner has lost his sting, and the pace attack lacks a genuine tearaway strike bowler who can run through the top order.
There are no stand-out all-rounders and where have the fabled spinners gone - bowlers, as The Daily Telegraph wrote, "with rubbery wrists and flexible fingers who will beguile batsmen"?
Most worryingly, there are few automatic replacements in sight. Even if India manages to rebound now it is not looking very bright ahead. And the men who run Indian cricket, addled on the riches of the lucrative Indian Premier League, don't appear to be too bothered.