India states ban film on low-caste quotas in education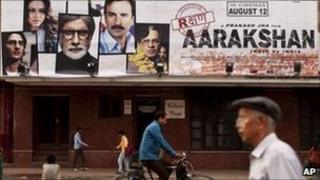 Three Indian states have banned a new film on the controversial issue of education quotas for low-caste people.
Aarakshan (Reservation), directed by well-known Bollywood filmmaker Prakash Jha and starring acting legend Amitabh Bachchan, was released on Friday.
The northern states of Uttar Pradesh and Punjab, and Andhra Pradesh in the south, banned the film due to fears it may cause law and order problems.
Critics say the film uses objectionable terms to describe low-caste Hindus.
Mr Jha, who is known for making films on controversial social issues, denies the charge.
The ban in Uttar Pradesh will last two months, officials have said.
Authorities in Punjab said they would decide whether to show the film after a government panel reviewed it.
Posters of the film have been vandalised by protesters, who allege that the film makes derogatory references to low-caste Dalits (formerly untouchables).
Some Dalit groups have also objected to the casting of actor Saif Ali Khan, a Muslim royal, as a low-caste Hindu.
'Hard-hitting reality'
The film, however, has been passed by India's Censor Board and its director and actors have been defending the movie.
Mr Bachchan used his blog to question the ban on the film.
"Without any knowledge of what the film contains, without any desire to determine the trust and the most basic principles of law of democracy, it has merely strengthened my and many others' fear of the weakness it conveys of our belief in governance and its ethics," he wrote.
Mr Jha said last week: "In India there are people who benefit from this policy [of quotas] and there are those who have missed an opportunity because of the policy. Reservation and the quota system is a hard-hitting reality.
"It is almost an India-versus-India situation and by showing this in my movie, I am trying to bridge the gap."
Under the quota system, seats in colleges and government jobs are reserved for socially disadvantaged groups.
Backers of the affirmative action insist it helps open doors into highly-rated educational institutions to people who have long been denied access.
The system provides equal opportunities to the poorest and most marginalised in India, they say.
But critics of the system say reservation promotes mediocrity and divides people on the basis of caste or region.