Nepalese town of Pokhara imposes triple ban on students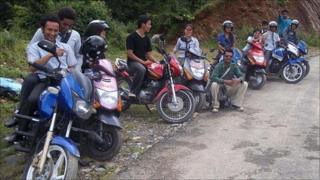 The authorities in western Nepalese city of Pokhara have launched a tough campaign to improve student discipline.
In a "three Ms" campaign to make students more presentable, they have banned them from using mobiles, wearing miniskirts and riding motorbikes.
They say that the initiative is designed to bring "order and rectitude" to classrooms and the streets.
Most students - apart from motorcyclists and the more fashion conscious - seemed pleased.
Many told the BBC there had been a decline in standards.
From now, teenage high school students aged between 16 and 18 will no longer be allowed to have mobile phones in classrooms or ride motorbikes.
The decision was made following a meeting in Pokhara between teachers, parents and the local administration.
'Will of the community'
The move follows an earlier government order requesting all students and teachers to refrain from using mobile phones while in the classroom "to preserve the teaching-learning environment".
Guardians Association of Nepal member Hemraj Baral said the aim behind the motorcycle ban was to prevent more students from being killed or injured in an increasing number of traffic accidents.
The Pokhara authorities say they also want to raise "moral standards" in this picturesque tourist city by disallowing fashion-conscious girls from wearing miniskirts that are too revealing.
They say that from now on, teenagers must either wear trousers or skirts that are at least knee-length.
Pokhara Chief District Officer Shambhu Koirala has vowed to implement the "three Ms" directive, arguing that it represents the "will of the local community".
And most students welcomed the decision.
"There should be a limit to the length of the skirt," said class 12 student Crispy Timilsina.
"And students were also engaged in using mobile phones by going to the back benches of classrooms. I am happy with these decisions."
There are 20,000 high school students in the Pokhara area.