Five US troops killed in Afghanistan by roadside bomb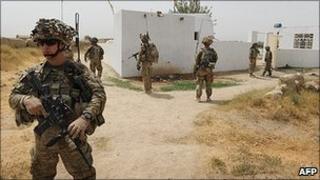 Five troops have been killed by a roadside bomb in southern Afghanistan, the US-led International Security Assistance Force (Isaf) says.
The Pentagon later confirmed that those who died in Thursday's attack were all US troops.
Another foreign soldier was also killed by a roadside bomb in the south in a separate incident on Wednesday.
More than 50 foreign service personnel have been killed in Afghanistan so far this month.
"We regret this very much, in particular as this came in the holy month of Ramadan and it is another sign of regardless killing and terrorism," Isaf spokesman Brigadier General Carsten Jacobsen was quoted by the Associated Press news agency as saying.
On Saturday, 30 US soldiers died when their helicopter was apparently shot down by Taliban insurgents.
Six Afghan troops and an Afghan civilian interpreter were also killed.
Many of the US soldiers were members of Seal Team Six, the elite special forces unit whose members undertook the May raid into Pakistan in which al-Qaeda leader Osama Bin Laden was killed.
It was the deadliest incident for the coalition in the decade-old US-led Nato war in Afghanistan.
The recent spike in casualties comes as foreign troops begin the first phase of a gradual process to hand over security responsibility to Afghan forces.
There are some 140,000 foreign troops - about 100,000 of them American - in Afghanistan, targeting the Taliban and training local troops to take over security.