Hamid Karzai bid to end Afghan election dispute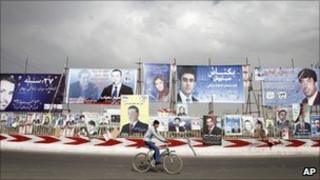 The Afghan president has issued a decree saying the courts do not have the power to decide disputed results from last year's parliamentary polls.
Hamid Karzai's ruling also dissolved Afghanistan's special election tribunal which had accused 62 MPs of winning their seats through electoral fraud.
It said the Independent Election Commission (IEC) will now have a final say in deciding results.
The move is aimed at ending months of uncertainty over parliament's fate.
Observers say they hope that Wednesday's decree will help break the paralysis that has dogged the Afghan parliament since its inauguration in January.
Mr Karzai had earlier backed the special election tribunal which was dismissed by critics as being illegal and unconstitutional.
The BBC's Bilal Sarwary in Kabul says President Karzai's latest move does not mean that the row over the disputed election will come to an end - the fight now will be between IEC and MPs fighting over contested seats.
Some MPs say they will put tents outside the presidential palace and stay there for days if necessary until the matter is fairly resolved.
Our correspondent says that there are reports of a compromise reached between the president, the IEC and the losing and winning parliamentary candidates.
Half of the 62 MPs might make it to parliament, he says.
Those MPs without a seat will be offered positions in the government such as governorships and police positions.