Sri Lanka wildlife groups boycott elephant census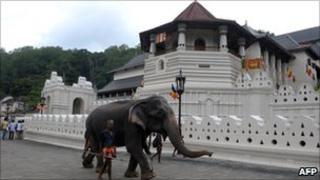 Wildlife groups in Sri Lanka say they are withdrawing support to an elephant census as they fear it will be used to bring more animals into captivity.
The island-wide three-day count is due to start on Thursday.
There are about 4,000 wild elephants in the country and a smaller number of domesticated ones used in sacred roles in Buddhist and Hindu temples.
This census is a complicated task, with thousands of staff and simultaneous counts at waterholes.
Officials say it will be more of an estimate than an exact count.
The government says the purpose is to help protect the species given its dwindling forest habitat.
Conservation organisations would be happy with that.
What they are not happy about is remarks on Sunday by Minister of Wildlife SM Chandrasena.
He said that during the survey, strong young elephant calves would be identified for capture, to be "donated" to temples for use in festivals.
A group of 30 conservation organisations has condemned the remarks and announced it will not take part in the census.
Spokesman Ajantha Palihawadana said such captures would interfere with nature by removing some of the best genetic stock from the elephant population, including some with tusks which are relatively rare.
He said it would perpetuate the current trend of what he alleges is the regular trapping of baby elephants on the orders of "influential people".
Despite the minister's remarks, the head of the wildlife department told the BBC he was not aware of plans to give a new batch of elephants to temples.