Fighting in Pakistani city of Karachi claims five lives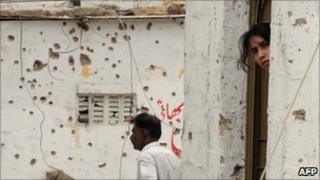 Five people have been killed and two others were injured in overnight violence in the Pakistani city of Karachi, police said.
All five were shot dead in different parts of the city, they said.
Thousands of people have died in ethnic violence since 2007 in this sprawling city of more than 18 million people.
The independent Human Rights Commission of Pakistan says 800 people have been killed since January, of which 300 died last month alone.
The city is home to large populations of ethnic Pashtun, Baloch and Sindhi people.
But the predominant group is the Urdu-speaking people whose elders migrated from India in 1947.
Karachi is the financial capital of the country and delivers more than half the total annual revenue of Pakistan.
The MQM [Muttahida Quami Movement], which represents the Urdu-speaking people, has controlled the city politically since the late 1980s.
But population displacement due to military operations against Taliban militants in the north-west of the country has led to a surge of Pashtun population in Karachi.
Urbanisation within Sindh province, of which Karachi is the capital, has also bolstered Sindhi population in the city.
Correspondents say recent ethnic violence is linked to internal politics, and reflects turf wars between different ethnic groups trying to find a new balance in the changing demography of the city.