Bangladesh opposition leader Khaleda Zia in graft case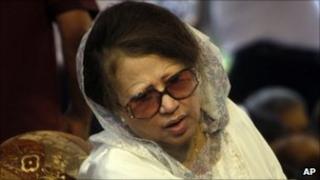 A corruption case has been filed against Bangladeshi opposition leader Khaleda Zia, officials say.
Ms Zia is accused of acquiring wealth exceeding her known income. An arrest warrant has also been issued against her son, Tarique Rahman.
Both Khaleda Zia and Tarique Rahman - who is believed to be living abroad - strongly deny the charges.
The cases will further heighten tensions between the government and opposition, correspondents say.
The Anti-Corruption Commission (ACC) has accused Ms Zia of using undisclosed income to buy land for a charity named after her late husband.
An ACC official said that the Zia Charitable Trust did not have any known source of income for a 12.6m Taka (£100,000) sum that made up part payment for a land purchase in Dhaka.
This is the first corruption case against the former prime minister since the Awami League government power in January 2009.
The opposition argues that the ACC is not politically neutral and that the charges against Ms Zia are groundless.
Tarique Rahman - believed to be living in an undisclosed location abroad - is accused of money laundering.
He and 18 other people - mostly from the opposition Bangladesh Nationalist Party (BNP) - are also accused of involvement in a grenade attack on a political rally in 2004.
Mr Rahman is widely expected to succeed Ms Zia as the next leader of the BNP.
Earlier this year a Bangladeshi court sentenced his younger brother, Arafat Rahman Koko, to six years in prison in a money-laundering case.