Rock on seabed delays Sri Lanka's Hambantota port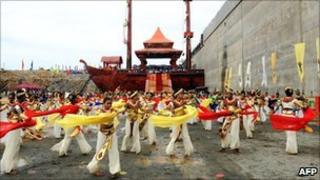 The Sri Lankan government has admitted that there have been delays to the completion of a massive Chinese-funded port in the south of the island.
A huge rock on the seabed near the harbour entrance is impeding access to Hambantota, one of the government's showpiece development projects.
Officials say the rock is being successfully blasted away.
But the opposition says it has severely hampered the operation of the port, which was officially opened last year.
'No restrictions'
Hambantota port, gouged out from farmland, lies at the core of government plans to develop part of southern Sri Lanka, mostly with Chinese loans and construction workers.
The region also has a newly completed cricket stadium and an airport under construction, and is bidding to host the Commonwealth Games in 2018.
Exactly how much the rock has delayed progress at Hambantota is under dispute.
An opposition parliamentarian, Harin Fernando, told the BBC that the government ignored feasibility studies which showed the port site to be ill-chosen because of the rock.
He said that at present only shallow vessels can enter Hambantota and alleged that the Chinese state bank financing the port suddenly demanded a large extra sum to blast the rock away.
But ports authority chairman Priyath Wickrama said the blasting was already under way and was safe and relatively cheap, and added there would be "no restrictions at all" on the size of ships able to refuel and bring cargo there.
Separately, an economist who is also an opposition MP has accused the government of incurring exorbitant fixed interest rate payments to the Chinese bank for the port loan.
It has not dented the government's enthusiasm for Chinese-funded infrastructure.
Last year a partly Chinese consortium won the bid to develop the Colombo port, and the government has just given a Chinese firm the contract to build part of a highway outside the capital.