Karachi building collapse kills nine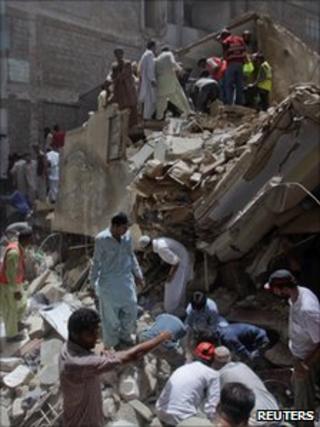 Rescuers have pulled out nine bodies from the debris of a six-storey building that collapsed in the Pakistani city of Karachi.
The incident took place in the Baghdadi Lane area. A dozen people are still feared trapped under the debris.
Residents were being evacuated from the nearby buildings some of which had suffered visible damage, police said.
Correspondents say there are a number of decrepit buildings in the old city area in the southern parts of Karachi.
Media reports on Friday morning said personnel of the army's engineering corps were helping the civic authorities clear the debris and look for survivors.
Witnesses said there were three bulldozers working on the site, but progress was slow.
They said narrow lanes in the area were preventing effective rescue work.