Ten suspected thieves beaten to death in India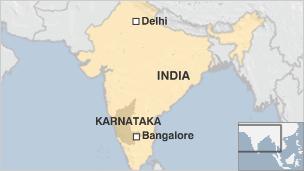 Ten suspected thieves have been beaten to death by villagers in the southern Indian state of Karnataka, police said.
They said the killings took place in Chikaballapur, 55km (34 miles) from the state capital, Bangalore, late on Tuesday. One man was injured.
More than 70 people have been arrested in connection with the lynchings.
Police say the villagers prevented them from intervening. Correspondents say the incident highlights the widespread problem of "mob justice" in India.
The victims - all young men thought to come from the neighbouring state of Andhra Pradesh - were pulled out of a van by more than 2,000 villagers and beaten to death with stones and wooden clubs, police said.
Preliminary investigations suggested that villagers suspected they belonged to a gang that sold fake jewellery, police said.
"I have never seen anything more brutal in my life. Huge stones were used to beat the victims," senior police official Malini Krishnamurthy told the BBC.
"We are verifying what exactly triggered the fury," she said.