Why India risks losing cricket's top spot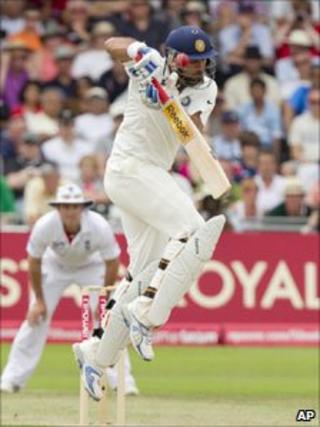 The front page headlines summed up the mood of cricket lovers after India was decimated for the second time in a row by England at Nottingham on Monday.
Not since 2008 have India lost two Tests in a series. The margins of defeat at Lords and Nottingham - 196 and 319 runs - have been downright embarrassing. Its star-studded batting line-up managed a mere 992 runs in four innings compared with England's more than 1,500 runs.
"India annihilated," reported The Hindustan Times, adding that India had "lost match and face". Pathetic, screamed Mail Today. "England Two Good," said a more benign headline in The Pioneer.
The Indian Express said the whopping defeat at Nottingham had exposed India's "fragility" - a "jaded, ill-prepared, disjointed side with most players showing no stomach or will for a fight", and led by a "listless and lethargic" captain, Mahendra Singh Dhoni, who was the toast of the nation barely four months ago when he led India to an audacious World Cup win.
The Times of India was cruelly blunt. "This team does not deserve to be the No 1 side in the world," it headlined on the front page in an uncharacteristic broadside and called India's performance a "craven surrender".
More damningly, it said that India's rise to the top of the Test rankings had been a result of a "statistical sleight of hand". Five of India's eight series wins - of the 11 series it had played - since October 2008 had come at home, and the other three had come against Bangladesh, West Indies and New Zealand, three of the weakest Test teams. The paper pointed out thoughtfully that India had drawn with South Africa both at home and away, and had not beaten the Sri Lankans on their home turf during this period. So India's ascendancy had been a "statistical miracle".
And now the miracle appears to be over, if you believe some cricket pundits. So much so that Ian Chappel is wondering how India remained the top Test team so far, saying that that its feeble bowling attack made it a "squatter rather than an owner" of the crown.
So how does the world's top cricket team slide from glory into ignominy so quickly?
Lack of preparation, ill luck and the absence of good replacement players, say most commentators.
The Indian team in England looks undercooked, a bunch of players who have gone into a key Test series with little match practice.
The loss of pace spearhead, Zaheer Khan (was his hamstring injury a result of inadequate preparation?), swashbuckling opener Virender Sehwag (who appeared to have carried a shoulder injury through the lucrative Indian Premier League before he was put on the bench to recover), and star opener Gautam Gambhir (felled by a pure bad-luck injury in the field) meant that India were playing far below strength in the first two Tests.
Much of this can be attributed to India's breathless cricketing calendar, something which Dhoni acknowledges, but appears to have no control over. You can't expect men to be machines, as leading cricket-loving TV news presenter Rajdeep Sardesai said. He is right.
Also, when you climb to the top of the league, you need to keep improving to keep competition at bay. Staying the top team is an infinitely more difficult job than becoming one.
So, in order to keep improving, many say, India needs to set out its priorities. Do you play more one-dayers and Twenty20 matches, including an enlarged, lucrative Indian Premier League, and put Test cricket on the back burner? Does the world's richest cricket board believe in Test cricket seriously any longer? As the articulate former England captain Naseer Hussain says: "India must come back, but they need to put Test match cricket first if they want to stay first."
India also needs a bigger, better pool of tested players - the team cannot be expected to continue to rely on the redoubtable talents of the injury-prone Zaheer Khan, ageing batting superstars (Dravid, Laxman, Tendulkar and Sehwag have a combined age of 144 years) and off-colour spinner Harbhajan Singh alone. The world's richest cricketing nation should have a larger bench of top-class players. Have the men who run its cricket simply lost the plot?
The questions are simple. How do you prioritise? How do you handle your talent? How important is Test match cricket? Why are the leading players underprepared for the biggest Test series of the year? Why are there so few warm-up games? India could look to England for some answers.