India 'Slutwalk' sex harassment protest held in Delhi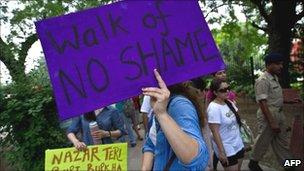 A rally has taken place in India's capital inspired by the "Slutwalk" protests held in a number of countries.
The protest is to challenge the notion that the way a woman looks can excuse sexual abuse or taunting - "Eve teasing" as it is known in India.
Hundreds took part in Delhi, though there was little of the skimpy dressing that has marked protests elsewhere.
The protests originated in Canada after a policeman said women could avoid rape by not dressing like "sluts".
The BBC's Mark Dummett in Delhi says the organisers are trying to challenge the mindset that the victims of sexual violence are to blame for the crimes committed against them.
He says Delhi can be a very difficult city for women, with sexual harassment commonplace, and rapes and abduction all too frequent.
And according to a recent survey, India remains one of the most dangerous countries in the world for women.
One protester told our correspondent: "Every girl has the right to wear whatever she wants, to do whatever she wants to do with her body. It's our lives, our decisions, unless it's harming you, you have no right to say anything."
Another protester said: "There are a lot of problems for women in Delhi because a lot of women do face sexual harassment and just a couple of weeks ago the chief of police of Delhi said that if a women was out after 0200 she was responsible for what happens to her, and I don't think that's the right attitude."
Most of the marchers in Delhi were soberly dressed in jeans and T-shirts or traditional shalwar kameez.
India recorded almost 22,000 rape cases in 2008, 18% up on 2004, the National Crime Records Bureau says.