Afghanistan: Helmand bus blast kills 18 civilians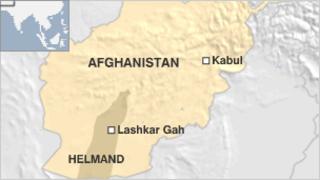 At least 18 Afghan civilians have been killed by a roadside bomb in southern Helmand province, police say.
They were travelling by minibus in Nahr-e-Saraj district when the blast occurred. Elsewhere in Helmand, another roadside bomb killed one person and four police died in an ambush.
Roadside bombs are commonly used by the Taliban against Nato-led forces.
The first six months of 2011 have been the deadliest for civilians in Afghanistan since the war began.
'Shots fired'
The civilians killed in Nahr-e-Saraj were on their way to the provincial capital, Lashkar Gah.
Two women and four children were among the dead, police told the BBC.
Helmand's deputy police chief, Kamaluddin Sherzai, said everyone on the bus had died.
"The mine was very powerful and destroyed the vehicle," he told the Associated Press. "They were all civilians. Some were children."
The other attacks both happened in the Garmsir district of Helmand.
Civilian casualties in Afghanistan are at levels not seen for years.
The country suffered 1,462 civilian deaths from January to June, a 15% increase on the same period last year, according to a recent report by the UN.
Correspondents say roads are increasingly in the frontline of the war in Afghanistan.
Last year, more than 2,400 civilians died, with roadside bombs the biggest source of casualties.