Sri Lanka: Former Tamil Tigers complain of harassment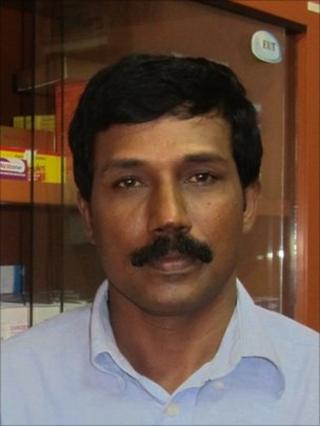 Former Tamil Tiger (LTTE) rebels in Sri Lanka say they cannot find jobs or reintegrate into society, a year after they were freed from government "rehabilitation" and detention camps.
In a series of exclusive interviews with the BBC, some also said they were being harassed by the security forces, though others were being left alone.
After the LTTE were defeated in 2009, more than 11,000 former militants or alleged militants were taken to the special camps after being screened off from civilian war refugees. A few thousand remain inside but more than half have been released, in phases, and gone home.
In Jaffna I called on Kumarasamy Muralitharan, nine months after I met him on his release.
He is an ex-LTTE doctor who was trained in the militants' medical colleges and served for 20 years in their medical wing. When I met him in October he wondered nervously whether his qualifications would get him a job as a doctor in post-war Sri Lanka, and whether he would be accepted by society.
Neither has happened. He now owns a small clinic but can't work. Provincial officials have told him they only recognise him as a person released from custody, not as someone medically trained.
He talks to me in his rented accommodation by the clinic, his wife, parents and one of his young children around him and family photos on the walls including one of his brother's graduation.
It is quiet with just the sounds of birdsong and bells from a temple or church.
He would love the chance to sit a government medical exam but he has been given no guidance or encouragement to do so.
"There are more than 15 [former LTTE doctors] like me who've completed MBBS [Bachelor of Medicine]-level qualifications here," he says in English. All would happily do government jobs, he says. "I'm ready to face any exam by the government if there is any chance given."
Dr Kumarasamy does not try to conceal his past life - "news spreads very quickly around this community," he says. People don't avoid his clinic or shun him, but he says their attitude to him is "affected by the media and political news". Most seem to fear that if they come too close to him they will suffer some sort of reprisal.
The BBC also met two other ex-Tigers, former fighters who did not wish their identities to be revealed. "Kumar", aged 33, served 15 years with the militants, latterly in a powerful regiment closely connected with the LTTE leader, Prabhakaran, and "Ganesh", aged 23, was forcibly recruited and served five years.
Kumar has no job 13 months after being freed from a tough detention camp.
Harassment?
"I've tried so many places to find a job," he says. "After I was released, the government did give me training in driving, and a certificate. There were 130 driving jobs allotted to us in the transport board, but politicians gave them to other people."
He says people do not view the LTTE negatively but shy away from him because if they meet him, army intelligence will go and question them.
He and Ganesh - also released a year ago - both say the security forces are keeping a close watch on them which they find oppressive.
"We are living under army surveillance," says Kumar. " They give us lots of problems, they call us for registration or meetings with no notice. We have to register if we go anywhere. They even monitor our houses."
Ganesh says that when a crime is committed, the army and police suspect former LTTE members first, and their families fear they will be rearrested.
I put it to him that the government must feel a need to keep a close watch on him and others because of the LTTE's violent record.
Ganesh responds by saying that many of the worst LTTE acts were committed by people who served many years with the organisation including "people who are now on the government's side".
"Most of us were only in the LTTE for a limited time. We only want to look after our families. By monitoring us they make us feel we can't go on living in Sri Lanka," he says. Many ex-detainees have indeed gone abroad, I am told.
In contrast Dr Muralitharan says that - to his surprise - the security forces have left him completely alone and have not visited or phoned him since his release from the camp.
Sri Lanka's military spokesman and the commissioner-general of rehabilitation both declined to give interviews to the BBC. But the secretary to the ministry of rehabilitation, Ariyasiri Dissnayake, did speak to us and denied any knowledge of the security forces picking on ex-rebels.
"The president has given a general pardon to them," he said.
"That means that we have given up all the past memories of them, that now we consider them as our brother citizens. I don't think security forces take discriminatory actions because all security forces which I have seen, they all have good connections with that young crowd. They are good friends."
The commissioner-general recently said meetings are held with community leaders to try to change ordinary people's non-acceptance of the ex-militants.
Officials did tell us, off the record, that rehabilitation is not considered to end as soon as the former LTTE members leave the camps, and that for at least six months after their release they must register at the police station and are not allowed to migrate domestically or abroad. A close eye is kept on them, we were told. There do not seem to be clear regulations on this.
At the same time, the government is publicising one village development scheme in which it says former LTTE members are voluntarily participating. It says the International Labour Organisation and others are funding livelihood programmes for ex-combatants.
Ties to the past
The three I met do not appear to have been given such opportunities.
Nor have they let go of the past. Dr Kumarasamy says that when people tell him, "the past is the past, the war is over", he does not feel happy.
"We sacrificed our lives during that era," he says. "Every family has a martyr. They sacrificed one or two children per family in the Jaffna peninsula."
Surely they sacrificed them to the LTTE?
"It's not like that. That was only in the latter part of the war," he says.
And his view of the future is a nervous one, clouded by uncertainty.
He feels his overall situation is slowly improving, but "I don't know what's beneath the iceberg".
As for Ganesh, it is a year since he finished "rehabilitation" but the dominant emotion is still a feeling of defeat, not of peace or happiness, he says.