Remembering Ahmed Omed Khpulwak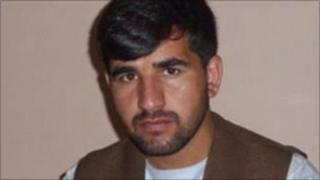 Ahmed Omed Khpulwak, who has been killed in a militant attack in the Afghan province of Uruzgan, worked as a reporter for the BBC Pashto service. His colleague, former BBC World Service Kabul bureau editor Dawood Azami, knew him for almost three years and remembers a man who was full of life.
On the morning he was killed, Omed filed a news report for the BBC in Pashto. It would turn out to be his last.
Dear BBC listeners, he began, I'm in a district where 1,700 new homes are being constructed. The residents here say they now have work and their town is being rebuilt. Later in the day, Omed went to the radio and television station in the provincial capital of Tarin Kowt, which also served as his office. He often worked there, getting access to the internet and editing radio reports.
He was inside when suicide bombers and other militants launched their attack. His brother says he sent him two text messages. The first read: "I am hiding. Death has come." In the second, he wrote: "Pray for me if I die." In the evening, Omed's family attended his funeral. They said his body had been hit by 11 bullets.
Like many Afghan civilians, he was in the wrong place at the wrong time and paid for it with his life. Omed had recently married. His baby daughter is three months old.
Omed was just 25 but the variety and frequency of momentous events in his life had made him more mature than his true age.
He was polite and sensitive and could sit quietly for a long time and listen. But he was funny at the same time and would crack jokes and make all of us laugh.
Omed saw death every day - I was amazed he somehow always managed to keep happy despite living in such a volatile environment.
Omed was aware of what was going on around him and wanted to share the information about his part of the world with others.
He was very careful in his reporting and particularly the need to keep BBC principles in mind and be impartial, balanced and accurate.
His reports reached English-speaking audiences too. On one occasion he travelled hours to put questions to the Uruzgan governor in a special programme aimed at highlighting how security concerns were thwarting efforts to rebuild.
'You are not God'
Sometimes he would call me if an insurgent commander had threatened him for not reporting an attack or their views.
On other occasions it was local officials who were complaining.
It was difficult for both of us. I remember when he told me once that he had had an argument on the telephone with a local militant commander.
I asked him what happened and he said: "I told the commander to go and do whatever you want. You are not God.''
On several occasions, I had to make calls to talk to the Taliban spokesman and Afghan officials explaining our policy and guidelines and telling them that they shouldn't be blaming our reporters if something was not covered.
Omed is the third BBC reporter to be killed in Afghanistan. Merwais Jalil died in Kabul in the civil war in the 1990s. Abdul Samad Roohani was killed by unknown gunmen in Helmand province three years ago.
A few months ago, I visited Newseum - the world famous museum of news and journalism in Washington - and the journalist memorial there. Among other colleagues, I also saw the name of Abdul Samad Roohani.
Never in my worst nightmares did I dream that Omed's name would be added to the memorial wall so soon.
He is survived by his parents, his wife and baby, his elder brother and three sisters.