Karnataka 'mining scam' report indicts chief minister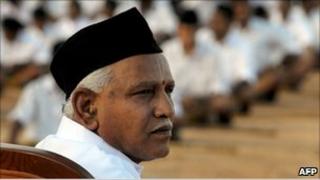 Karnataka's anti-corruption chief has submitted a damning report on illegal mining which names the Indian state's chief minister as a key suspect.
The report names several other members of the Bharatiya Janata Party government, as well as Congress and Janata Dal (Secular) politicians.
Chief Minister BS Yeddyurappa denies profiting from illegal mining.
The report was leaked last week, causing an outcry. The alleged scam cost the state $400m (£250m).
Illegal mining has allegedly been rife for years in Karnataka. The state produces about 45 million tonnes of iron ore a year and exports more than half of it to China.
'Mafia-like'
Last week the report's author, anti-corruption ombudsman Santosh Hegde, told the BBC that he had "firm evidence" against the chief minister and several other people.
The scam, former Justice Hegde said, cut across parties: "It's a mafia-like operation."
He has said he will send a copy of the report to the Supreme Court too since he does "not have faith in the state government".
The report details what it says is the illegal transport and export of iron ore from the state.
Last week, Justice Hegde also accused a senior state BJP leader of trying to put pressure on him to drop the chief minister's name from the report.
He said he refused to bow to pressure from Dhananjay Kumar, a former BJP cabinet minister.
Mr Kumar admitted meeting Justice Hegde, but denied asking him to omit Mr Yeddyurappa's name.
Since parts of the report were leaked, opposition parties have demanded Mr Yeddyurappa's resignation. The BJP has said it will decide its course of action once the report is submitted.
The embattled chief minister is also facing charges of corruption and nepotism in land deals and is being investigated separately by the courts.
So far, the party has been reluctant to act against Mr Yeddyurappa, who is from the influential Lingayat community. His departure from his post could bring down the party's only government in southern India.
The contents of Justice Hegde's report are a serious setback for the BJP.
The affair is highly embarrassing for the party after months on the offensive against India's governing Congress party, which itself is embroiled in a series of damaging corruption scandals.