Afghan boy's strangling symbolises Helmand challenge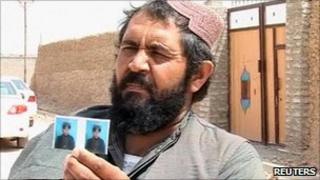 British forces handed over security of Helmand's largest city, Lashkar Gah, to Afghan control last week. For both Afghanistan and Nato it marked an important step.
For Nato it heralded the beginning of the end; the start of the transition process that will eventually see all international combat troops leaving the country by 2015.
For Afghanistan it is the first test of being able to stand up on its own two feet.
In a speech on Tuesday the Afghan President, Hamid Karzai, said it showed that Afghan forces were taking responsibility for securing the country for its people. But President Karzai has also warned of hard work and sacrifices ahead.
Recent violence in Helmand underscores the challenges that remain.
Afghan police were engaged in two separate gun battles with insurgents on Monday.
Fighting in Nad Ali district lasted for five hours and ended with six insurgents being killed.
Another brazen attack on a police checkpoint in Musa Qala left 14 insurgents and two Afghan police officers dead.
Peace does not necessarily follow transition.
British forces too are still targeting a resilient Taliban and wider insurgency in Helmand.
Over the weekend a British army Apache helicopter opened fire with its 30mm cannon on an insurgent travelling on a motorbike in the area of Nahr e Saraj. The bullets also hit five young children working in fields nearby.
The UK's Ministry of Defence has expressed deep regret and ordered an investigation.
But it is by no means the first time innocent civilians have been caught up in the fighting, or mistakenly hit in Apache attacks.
The United Nations in Afghanistan estimates that, so far this year, 79 civilians have been killed in Nato airstrikes, with 44 of those deaths involving Apache helicopters.
'Brutal, cowardly crime'
But there has been one incident, more than any other, that illustrates the brutality of this 10-year-old war, and the depths of the violence that still exists in Helmand today, despite the hopes of transition and the continuing presence of international troops.
Last Friday a boy was kidnapped from his home in Gereshk by a group of insurgents. His name was Ibrahim.
Officials said he was just eight years old, though his family say he had just turned 12. Either way he was an innocent bystander in this conflict.
The insurgents told Ibrahim his father had been injured in a car accident and promised to take him to the local hospital.
In reality they wanted Ibrahim to blackmail his dad, a local police officer called Daoud.
While they held Ibrahim the insurgents rang Daoud saying he would have to handover his green police pick-up truck, for the safe return of his son.
At first Daoud thought it was a joke.
When the voice on his phone started swearing, he simply refused.
The gang of insurgents were deadly serious. Days later Ibrahim's body was found dumped in a ditch. He had been strangled.
The Taliban have denied responsibility, but Daoud is certain they were behind his son's murder. He asks who else would have wanted a truck with police markings?
President Karzai called it "a brutal and cowardly crime", not acceptable in any religion or culture.
For those who have doubts as to whether the violence will ever end, it can only add to the sense of despair over Afghanistan's future.
It will come as no surprise that Daoud now wants to leave Gereshk to move somewhere safer.
But he still wants to carry on serving in the local police, as long as he has the support of his colleagues.
It is the one hope for the future of Afghanistan and Helmand: That those who are the victims of such brutal acts remain unbowed.