India and Pakistan relations 'on right track'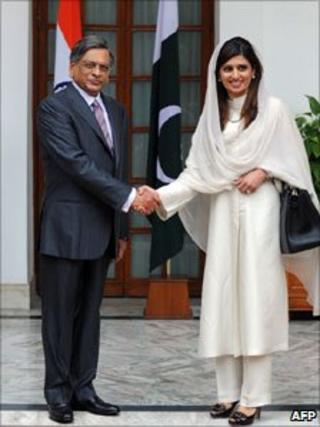 The foreign ministers of India and Pakistan have said relations between the countries are "on the right track".
SM Krishna and Hina Rabbani Khar held talks in Delhi, the first such meeting between the two nuclear rivals in a year.
The meeting came five months after the South Asian neighbours resumed bilateral discussions.
Talks were suspended after the 2008 Mumbai (Bombay) attacks which India blamed on Pakistan-based militants.
But earlier this year, leaders vowed to resume their dialogue.
No major breakthroughs were reached on contentious issues such as the Kashmir dispute and terrorism at Wednesday's talks but both sides said they will continue to try and narrow their differences, says the BBC's Sanjoy Majumder in Delhi.
There were no major announcements except for increasing cross-border trade between Indian and Pakistani-administered Kashmir and easing travel regulations between the two areas.
Indian Foreign Minister SM Krishna said after the meeting that he was confident that "our relations are on the right track".
"We have reaffirmed our commitment to resolve all outstanding issues through a comprehensive, serious and sustained dialogue."
Ms Khar, Pakistan's newly appointed and first female foreign minister, said this was a "new era in bilateral co-operation between the countries".
"A new generation of Indians and Pakistanis will see a relationship that will hopefully be much different from the one that has been experienced in the last two decades," she said.
But soon after her arrival in India on Tuesday, Ms Khar met Kashmiri separatist leaders, a move that would not have gone down well with her hosts, correspondents say.
Disagreements between the two countries over the Kashmir issue have been the cause of two wars between them.
India also wants Pakistan to take action against militant groups based on its soil, especially those perceived to be behind the 2008 Mumbai attacks in which gunmen killed 165 people.
Since February, Indian and Pakistani officials have met to discuss a range of issues in an attempt to find ways to build trust and promote peace.
Last month, the foreign secretaries of the two countries held two days of talks where they agreed to discuss new nuclear confidence-building measures.
India has said it is "ready to discuss all issues with an open mind", and will push for justice for victims of the Mumbai attacks.
There remains a huge amount of mistrust between the nations but, analysts say, for now it seems both governments appear committed to improving relations.