Ministers 'stole millions in Karnataka mining scam'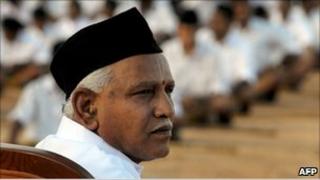 Karnataka's Chief Minister BS Yeddyurappa was involved in an illegal mining scam that cost the southern Indian state $400m (£250m), according to an anti-corruption ombudsman.
Retired judge Santosh Hegde said he had evidence of a "huge racket" involving members of the state's Bharatiya Janata Party (BJP) government.
Members of the Congress and Janata Dal (Secular) parties are also accused.
Mr Yeddyurappa has previously called the allegations against him baseless.
The chief minister, who led the BJP to power for the first time in Karnataka in 2008, is holidaying in Mauritius and has not commented on the report.
His party leaders said they would react after it was submitted to the government. That is due to happen by Monday.
Opposition parties have called for Mr Yeddyurappa's resignation.
'Plunder'
Justice Hegde confirmed the report's contents after it was leaked.
He said he had "substantive" evidence that Mr Yeddyurappa had been involved in the alleged mining scam in mineral-rich Bellary district between March 2009 to May 2010.
"The report is based on corroborative evidence," said Justice Hegde, a former Supreme Court judge who has won acclaim for fighting corruption during his five-year term which ends on 4 August.
Justice Hegde has denied that the leak was from his office and alleges his phone was tapped.
Correspondents say illegal mining of iron ore has been rampant in Karnataka which produces about 45 million tonnes of iron ore a year and exports more than half of it to China.
"There has been a systematic plundering of ore with active support of politicians. Illegal mining has thrived only because of a lack of political will," a senior police officer associated with the investigation told the BBC.
The report accuses Mr Yeddyurappa of benefiting through overvalued land sales to mining companies and kickbacks routed through trusts his relatives have a stake in.
Last year he said that many ministers in previous governments had been involved in promoting illegal iron ore mining in Karnataka and he promised to expose them.
"I am not the one to keep quiet when baseless allegations are hurled against me," Mr Yeddyurappa said.
Correspondents say the contents of Justice Hegde's report are a serious setback for the BJP. Karnataka is the only southern state the party governs.
The BJP has been on the offensive against India's governing Congress party, which has been embroiled for months in a series of damaging corruption scandals.