India Maoists kills four in Chhattisgarh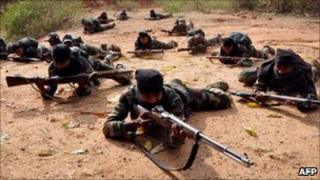 Maoist rebels in the central Indian state of Chhattisgarh have blown up a bridge, killing four people and wounding five others, police said.
The victims were in a car following the convoy of a senior local politician in the Gariyabandh area.
The convoy escaped the blast. The police said the rebels fired on two other vehicles on the bridge.
Maoist rebels say they are fighting for the rights of indigenous tribal people and the rural poor.
They are active in several eastern and central states. In one of the most deadly attacks in Chhattisgarh last year, they killed 74 policemen in Dantewada district.
Wednesday's attack happened when the Congress party chief of the state, Nandkumar Patel, was returning from a party function.
The explosion hit the bridge after Mr Patel's convoy had travelled on it, but damaged vehicles following it, killing two people and wounding one.
Police officer RK Vij told the state-run Doordarshan News that the rebels then fired on two vehicles, killing two people and injuring four others.
A government offensive against the rebels - widely referred to as Operation Green Hunt - began in late 2009.
It involves 50,000 troops and is taking place across five states - West Bengal, Jharkhand, Bihar, Orissa and Chhattisgarh.