Hillary Clinton seeks Indian security and nuclear deals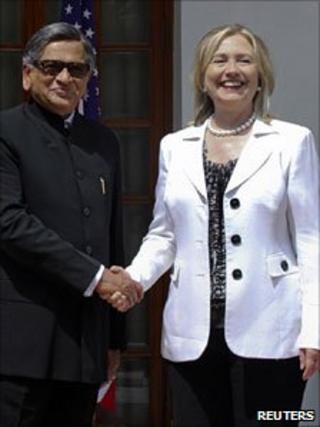 US Secretary of State Hillary Clinton is seeking greater security and nuclear ties on a visit to India.
Mrs Clinton said last week's bombings in Mumbai (Bombay) had "driven home how important it is that we get results".
She also called for deeper trade ties and heard Indian worries over US pullout plans from Afghanistan.
Following the talks with Indian Foreign Minister SM Krishna in Delhi, Mrs Clinton said she was "encouraged" peace moves with Pakistan had restarted.
Mrs Clinton said that counter-terrorism was an issue on everybody's minds following last week's bombings in Mumbai, which killed 20 people.
"We are deepening and expanding our efforts and making great strides together on behalf of counter-terrorism, but also in respect of maritime security," she told a news conference.
She said she was "encouraged" by renewed dialogue between India and Pakistan, which was "so necessary for us to deal with the underlying problem of terrorism".
India has not blamed Pakistan for last week's attack, but the much deadlier 2008 assault derailed peace efforts between the regional rivals. Formal talks restarted only this year.
For his part, Mr Krishna voiced India's concern at US plans to withdraw from Afghanistan.
He urged the US to factor in "ground realities", so Afghanistan "will be in a position to defend itself against terrorism sponsored by the Taliban".
Nuclear energy
Mrs Clinton singled out civilian nuclear energy as a priority area, where the US and India "can and must do more".
The US agreed a landmark energy deal with India in 2008, but since then US private firms have struggled.
The US sees India's new nuclear liability law as too tough on nuclear plant suppliers, which has made it hard for US firms to compete with their state-owned French and Russian competitors.
Mrs Clinton's three-day visit is her second to India as secretary of state and follows President Barack Obama's trip last November.
Mrs Clinton arrived in Delhi late on Monday. After meeting Indian leaders, she will travel to the southern city of Madras (Chennai), a hub for US investment, where she will visit a Ford car factory.
India is currently the US's 12th largest trading partner, with bilateral trade of almost $50bn (£31bn).
In June, the two countries agreed to improve access to each other's markets - the US wants India to become one of its top 10 trading partners.