Pakistan spy chief Ahmad Shuja Pasha in US visit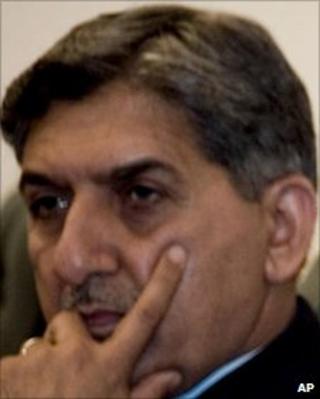 Pakistan's intelligence chief Ahmad Shuja Pasha is due in Washington for talks, as relations between the countries continue to deteriorate.
The spy chief will "co-ordinate intelligence matters" during his one-day trip, Pakistan's military said.
On Monday Pakistan's defence minister said that troops may be withdrawn from the Afghan border, after the US announced a major cut to military aid.
Ties have been fraught since the US killed Osama Bin Laden in Pakistan.
The al-Qaeda chief was killed when US Navy Seal commandos raided his compound in the Pakistani city of Abbottabad on 2 May.
Many in the US have questioned how the fugitive could have lived undetected for years in a Pakistani cantonment town so close to the capital.
But in the months leading up to the raid, tensions were already running high over the case of Raymond Davis, the CIA contractor who shot and killed two men in Lahore.
Many in Pakistan were demanding that he be tried for murder. He was eventually released after "blood money" was paid to the families of the victims.
Military cuts
This the intelligence chief's first visit to the US since the killing of Osama Bin Laden.
The army did not disclose the precise purpose of Mr Pasha's visit, but said he would be meeting American military and intelligence officials in Washington.
The BBC's M Ilyas Khan in Islamabad says that it is believed he will raise the issue of military aid cuts and reassure Washington of Pakistan's resolve when it comes to fighting militants.
On Sunday the US said it would cut about $800m (£500m) of military aid to Pakistan, which equates to about a third of the annual US security aid to the country. Pakistan has said it would use its own resources to continue operations against militants in the volatile north-west of the country.
But analysts say that US aid cuts will create financial pressure on the military and force it to appropriate government funds allocated for non-military projects.
And on Monday Pakistani Defence Minister Ahmed Mukhtar said that his country could withdraw troops from the Afghan border in response to the cut.
Mr Mukhtar said Pakistan "cannot afford" to keep troops in the remote region without the financial support.
Our correspondent says that while the defence minister's statement worsens the ongoing row between the US and Pakistan, there is no real likelihood of the army being pulled out.
In addition the US has persisted with drone strikes in north-west Pakistan despite protests by Islamabad.
At least 48 people have been killed so far this week in four separate strikes across North and South Waziristan.