Pakistan: Drone attacks in Waziristan 'kill 30'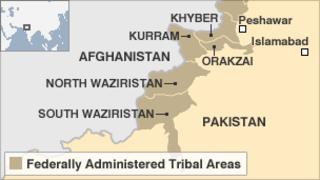 Three drone attacks have killed at least 30 people in less than 24 hours in a volatile tribal region of north-western Pakistan, officials say.
At least 13 people died in a missile strike on a house on the North-South Waziristan border. Earlier, missiles killed 10 people in South Waziristan.
On Monday night, officials said seven died when a drone targeted a vehicle in the Gorwick area of North Waziristan.
The US says the region is home to al-Qaeda and Taliban insurgents.
It says militants who have found sanctuary in these areas are involved in attacks on Nato forces in Afghanistan. North and South Waziristan are regularly targeted by drone missiles.
Reports say the death toll could be even higher.
The attacks come shortly after the US announced a substantial cut of $800m (£500m) in US military aid to Pakistan. Pakistan's army spokesman said the cut would not affect its ability to combat terror groups.
On Tuesday, Defence Minister Ahmed Mukhtar responded by saying Pakistan could pull its troops back from the Afghan border region "if things become difficult" without the US aid.
"We cannot afford to keep the military out in the mountains for such a long period," he told Express 24/7 television.
'Strikes condoned'
Drone attacks have escalated in the region since President Barack Obama took office in 2008. More than 100 raids were reported in the area last year.
The US does not routinely confirm that it has launched drone operations, but analysts say only American forces have the capacity to deploy such aircraft in the region.
Pakistan publicly criticises drone attacks, saying they fuel support for militants. But observers say the authorities privately condone the strikes, although there have been recent signs that they want to limit the scope of such attacks.
A number of militants, some of them senior, have been killed in the raids, but many civilians have also died.