France to withdraw a quarter of troops in Afghanistan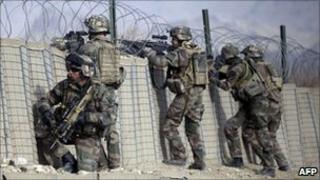 France's President Nicolas Sarkozy has said the country will withdraw 1,000 troops stationed in Afghanistan by the end of 2012.
He made the announcement during a visit to a military base in the Sarobi district, north of Kabul.
This is Mr Sarkozy's third visit to Afghanistan since he became president in 2007. He will also meet his Afghan counterpart, Hamid Karzai.
France has a a total of 4,000 soldiers serving in Afghanistan.
"We will pull out a quarter of our contingent, which is to say 1,000 soldiers, between now and the end of 2012," Mr Sarkozy told troops at the base.
"It's necessary to end the war," he added.
He said the French would follow the timetable of US withdrawals announced by President Barack Obama.
Mr Obama has said 10,000 US troops will pull out this year, with another 23,000 leaving by the end of September 2012.
Mr Sarkozy is also due to meet Gen David Petraeus, the US and Nato commander in the country, during his five-hour-long visit on Tuesday.
French troops operate in areas like Kapisa, the province adjoining Kabul, in the east of the country.
French soldiers have been involved in the US- and Nato-led operation in Afghanistan since 2001.
But, in recent years, French special forces have been more closely involved in the fiercest fighting with the Taliban. A total of 64 French soldiers have been killed in the country, nine dying in this year alone.