Tales of fear after days of killing in Karachi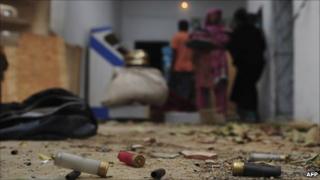 There are fresh fears of instability in Pakistan's largest city, Karachi, after nearly 100 people were killed in shootings and violence last week. Residents of the city - including people living in its strife-torn western neighbourhoods - have been telling the BBC's Shahzeb Jillani of their ordeals.
Last Friday, the port city - with its population of 18 million residents - was shut down after its largest party, the MQM, announced "a day of mourning".
Many people said they stayed at home fearing more violence. The MQM, in power for nine years, this month resigned from the government to sit on the opposition benches.
That in turn has given rise to fears of renewed political confrontation.
The surge in violence last week was widely blamed on armed gangs linked to rival political and ethnic groups.
Karachi, considered to be Pakistan's economic capital, is also plagued by extortion rackets, mafia-run land-grabs and turf wars waged by armed groups.
The government's move to deploy the Sindh Rangers to restore law and order in the troubled western neighbourhoods of the city met little resistance. But that was scant conciliation to hundreds of families stranded inside their homes without food and water for days, some of whom were evacuated to safer locations.
'Desperate for help'
Mansoor Khan, 43, told the BBC that snipers were positioned on the rocky hills surrounding the western suburbs where he lives.
"They would shoot at anyone who tried to step out of their home. We had sick and elderly people in the family who couldn't get any treatment. We were stuck and desperate for help."
Other residents of the area say that they were too terrified to go out of their houses because of intense gunfire.
Maheen Noor, nine, describes with remarkable alacrity the "tak tak tak" of small arms fire.
"I wasn't too scared," she said, "because I have heard it before, like when there was fighting in the area two years ago.
"But this time, it went on for several days. We couldn't sleep at night. My sister was really freaking out. She stayed close to my father throughout the nights."
'Bullets flying'
In many households, food stocks ran low, said neighbourhood activist Afaq Hussain Rizvi.
"I lived on tea and water during those days," he said. "Bullets were flying over our heads. The police were there, but they didn't do anything to stop the gunfire."
Mr Rizvi says that most people do not have much faith in the security forces.
"Once they leave, the fighting could start all over again. The people in this area have no option but to arm themselves for their self-defence."
University graduate Syeda Shaista Shahzad said that her neighbour's teenage son was killed by a bullet while peeking out the window to see what was going on.
"The attackers didn't seem to care who they were shooting at," she said. "They had automatic machine guns, even grenades and rocket-launchers were used."
While the west side of Karachi has borne the brunt of the violence, other parts have not been immune.
Seema Hasan, 35, says that while she lives in a "relatively safe neighbourhood", her work is in an area where shootings and violence do sometimes take place.
"My parents constantly worry about my safety when I go out," she said. "It affects my personal and professional life.
"In many countries, people check the weather or transport news before going out. Here, it's the security updates that people look out for."
'Civil war'
Pashtun rickshaw driver Fazal Ayaz has worked in Karachi for 40 years and has the same phlegmatic attitude towards the violence as many other city residents.
"I drive my rickshaw all over the city day or not, not knowing where a bullet might come from," he says.
"I see a lot of crime, muggings and [people being held at] gun-point. The situation is getting worse by the day.
"Sometimes, I tell my passengers I won't go to certain areas where they are shooting people who look Pashtuns. But this is my bread and butter."
Mr Ayaz says that people are frustrated and fed up with the killings and shootings which are "forcing people to take matters in their own hands and could lead to an ethnic civil war".
Many, like 42-year-old education official Aziz Kabani, fear that Karachi may be entering into another prolonged phase of instability, violence and economic uncertainty which will have a huge impact on Pakistan's struggling economy.
"Karachi and its people have enormous potential to compete with any mega-city," he said.
"But sadly, it's not being realised and things are deteriorating. It pains us mentally and emotionally to see Karachi suffering like this.
"It's like seeing a loved one suffering from a fatal disease and dying a slow death.
"But I am still hopeful. This city can, and will, bounce back. I believe the change will come. It will come from the grass-roots. Those at the bottom will lead the change, not the ones at the top."